Up Stream
January 28, 2011
I row exceptionally hard,
But no matter my push, there
Is always a pull back.
That's just water; a stream or
A river that toughens the barnacles
That cling so tightly to the rocks.
Silver dashes, helping my arms
Push forwards; I can still row faster
Than they can swim, though.
But there is something about
That one off the dripping, wooden
Edge. He has swum near me so long;
That tail is so amusing to watch flick;
The fins flip back and forth.
I've come to like that fish, pushing
Past the water as I do. And joins us
More silver weavers that fight just
Harder than the current. Then
A sparkle, a flash of more luminous
Silver to the port, no, starboard.
And then add more; those fish are
All too fine, and they either veer off
Or fall behind, but never ahead.
But still, a few stick with the school
That congealed around this one-man
Sailor. Eyes tire with one, though,
And drift off to the other scales that
Seem to fight or shine more.
But none fill that gap;
The gap of that first fish's trap;
Oh, but he didn't mean by it.
Why is this current so hard?
One fish lost, then two, three
And four, then more. But that flicker
Of fight flies by me, still: Thank you.
The eyes tire again; drift away again,
But loop back to… nothing.
He hasn't lost, just veered, it
Feels with the remaining school, too.
Well if that's that, then let him
Swim away. His choice. Besides,
His scales seemed like the shining sun
-sometimes- others times they were
not much of anything.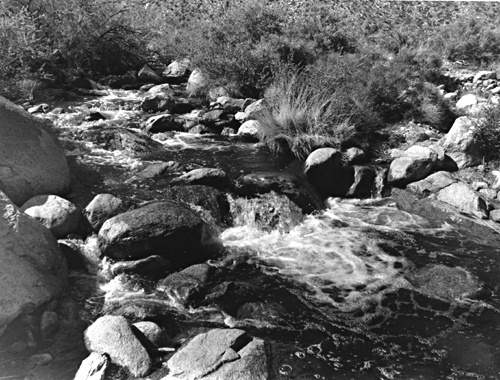 © Becky S., Stony Brook, NY