The Little Things
February 18, 2011
It always starts with the little things, like a dog.
A dog that enticed a young girl, who wanted
Nothing more in the whole, wide world.
One day she came closer, soon after the girl was never alone.
The dog stole her heart and so did its master.

Years went by and the bond only got stronger.
The girl loved the dog, who knew her well;
She loved the master, whose face never fell.

The master got sick, but her smile never left.
Her heart was light, even in the darkness.
The girl learned how to be bright,
Even if nothing was going right.

The girl loved the dog, and told it often.
The girl loved the master, but never said a word.
So now she sits, sad and alone; for she didn't say what needed to be said.
The girl knows, with all that's left of her heart, that the master loved her and knew the girl loved her back.

It always ends with the little things,
Like the weary smile of the master,
Or the soft whimpering of the dog.
And before I knew it, they were both gone.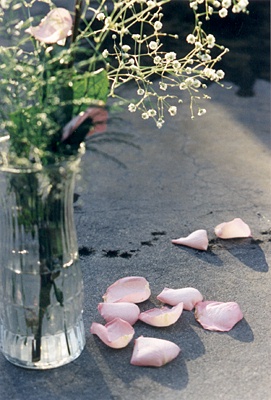 © Mary A., Fullerton, CA