Living With The Worms
February 28, 2011
Just going crazy
On the verge of insane,
Living with the feeling
Of worms in my brain.
Nothing to promise
No one to console,
Step aside now
While my anger
makes me whole.

They gnaw and they bite
Those dreaded parasites
Chewing holes through my sanity.
More of them
More of them
Come and they go
Leaving my thoughts tainted
With hate no one knows.

My skull aches,
My brain throbs
My eyes
My eyes
They're exploding
The worms are fat and rolling
Some dead,
Some unknowing.
Just the same insanity,
Born to be vengeful
The insanity is growing.

Now the rats,
The rats,
The rats are crawling,
Big black slimy rats,
Scratching and gnawing,
Eating my face,
My eyes,
My nose,
Chipping them away,
Eating my toes.

Oh the rats!
Dear god the rats!
They're all inside me,
Clawing and scratching
Inside my stomach,
Eating my teeth.

Down the hatch,
Down they go
Would you like some rats?
Dear God, No!

Well that's too bad
Now let's see,
Would you like them well?
Or pink and runny?
Ah yes, the fur,
The fur!
Of course you want that!

No
No
Not the fur of a rat!

Well, of course you do!
Now lets go,
Eat them up!
Chomp their bones!
And
Down
Down
Down they go!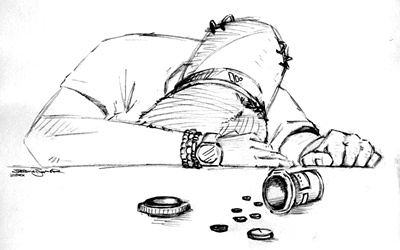 © Jeremy B., Austin, TX