Our Barn
April 2, 2011
We never went inside.
We never met the owner.
But it was


Our Barn.

On those early mornings,
Frost-covered grass bent in the wind, while
Blissful birds hummed tunes in the branches above.
Black silhouettes of leafless trees mingled with the dim heavens,
Chilly fog crept through the ground below.
On those early mornings,
The sunrise grinned above the red rooftop,
Outlining scattered clouds with warm light.
All was quiet,
And Our Barn stood still.
On those mornings,
We had a moment with
Our grass,
Our trees,
Our sunrise,
Our birds,


Our Barn.

But then something changed.



Now, on these early mornings,
Meticulously trimmed grass stands erect,
Angled houses threaten the sky,
The sun is defeated by the buildings,
Artificial light contaminates Nature's darkness.
Now, on these early mornings,
Birds have abandoned their nests,
Pointed fences mark strict boundaries.
All is silent,


And Our Barn is gone.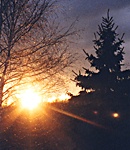 © Christy S., Germantown, NY