Free Me from Myself
July 8, 2011
The night is falling on me, swallowing me whole
I'm afraid the darkness is catching up to me again
It grips me by the hand like grandpa used to when we crossed a street
Inviting itself to my bed, continuing to engulf me
Transforming itself from an itching,
Overwhelming blackness into tears on my pillow
I never catch sleep it seems
But I'm not alone tonight, I'm with my oh so clever restless mind
That talks too much and says so little
It eats me up inside every night, the feeling
of worthlessness, of emptiness, of being out of place
I can't put a word on it really, it's an indefinable sore
That aches at my bones, trying faithlessly to find something more
This cannot be it, this life isn't mine
I've been stolen of my happiness, of my identity
A hole was dug inside my heart and it cannot be filled
I try so desperately to dissect what I have inside
To take apart what I have missing and
Stick the wholesome parts together as if it's their place,
But my heart knows better and it knows my mind
It proceeds to dig itself yet another hole, disapproving of my intent
Of scraping off these burdens from within its core
And hanging them lose, apart from me
But nothing is ever good or big enough --
Or strong enough
To replace this newfound gap or better yet, to destroy its roots
I carry these things with me, but only inside of me
In fear of being exposed, of vulnerability
Of all that I have inside devouring my outsides too,
As if my spirit wasn't enough
I'm consumed into this vast confusion where
Light feels surreal, oh too good to be true
I touch it's warmth, it everlasting truth,
But let it cast away from my mind,
Let my sight be obscured by what I feel
And I fall again, just when I thought I found something real.
Can someone please save me? Because --
I feel like I'm losing myself inside all that I've known.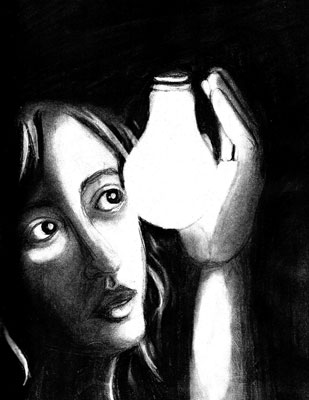 © Jessica P., Bethel Park, PA