Bottling Yourself to Die
September 12, 2011
Bottling emotions, is a way of
setting yourself to die.
Someone asks you "Are you ok?",
you answer with a lie.

You don't feel ok,
you want to shout,
but with everyone around
there is no way out.

You don't say a word
there's so much to be said
but with not saying anything
you are soon to be dead...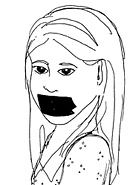 © Liza M., Vineland, NJ