Notebook for Mommy
December 21, 2011
I thought if I dutifully
recorded stories and sketches
in the notebook you gave

me when you were first
hospitalized you would come home.
Each day, my blunt-tipped lead

diligently traversed the expanse
of blank pages, stocking them with
rations of sky splintered

by summer's thick streaks of sunlight,
entangled in somnolent clouds.
I meticulously adorned the fields of

short, uneven blades of grass with
lopsided roses and
stick-figured portraits of us

in embrace, as if the doctor never found
that lump in your breast.
I carefully pressed leaves,

gluing autumn's glory into the notebook,
so that you could watch the colors change.
I filled pages with descriptions of

notes falteringly rising, toppling
into cobwebbed air, as I learned a new song
on piano, the unstable rhythm set by

my throbbing heart yearning for you
to hear me play again.
Winter's heavy sigh fogged up

the lens of the sky, lingering on the dog-eared
corners. The dark point of my stubby pencil
fastidiously traced the contours of

my breath, suspended in the bitter air,
a wisp of disappointed hope
that we would soon lie together in snow powder and

pretend we were angels together.
When you didn't come home,
I clasped my grief tightly between the pages,

cradling it as I stumbled over to the lake
where we once ran our fingers through the sun
trickling into the wrinkles of water.

The day cracked open like an egg. Impetuously,
I blew away the pages
and watched the shavings skid across the water.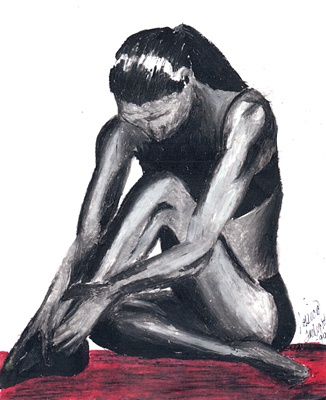 © Jessie Y., Ahwahnee, CA