Symmetry of the Moment <3
January 14, 2012
Freezing water
Tangles in tiny strands
Through the sandy spaces between
My suntanned toes
I drag them
Through the water
And slowly, I
Form a reluctant step
That brings me
Just inches deeper.


White foam
Lines each sparkling pulse
Of precious,
Reflective
Jewels


The waves applaud,
Liquid mirrors,
Clapping, overlapping,
Weaving,
Folding,
Receding


They whisper
To me softly,
Hushed secrets,
Trying to tell me
Who
I really am,
Challenging
Whoever that is.

Another unwilling step
A new mental war
My strength lost,
Replaced by fear,
It's gone,
Abandoned me.
Without it,
My mind bolts and recoils, trembling,
Back to the shore


But my heart leads me
Sturdily on.


It's so close to me,
I can already feel
The unwanted,
Chilling embrace
Of the sea cliff.


I'm not ready for the
Slow push
Of a step
I take
Sending sand over
The edge
Of the drop-off;
Tan fairy dust
Off to find
A new place to be lost,
To venture through the darker,
Deeper waters
Of the seemingly infinite sea.


My heart alone
Pulls me impatiently forward
Just a couple inches
Bringing me to a new viewpoint
Where I can see that sand
Drifting away
Like glittering snow
Over the peak
Of a mountain on a windy day,
Like little miniature versions of me,
They're lost, mystified,
Misled and confused.


The edge is drawn closer,
A cliff over a dark
Endless pit of secrets
I wonder what's really
At the bottom
As fearful curiosity
Overflows my mind,
And spills
Tauntingly over the edges


All I feel
Is a slow breeze
Full of sea salt
It pools into my lungs
And tries to blow my thoughts
Back to an orderly display
But it's beyond hopeless


My eyelids
Slide over my eyes
As if
For once
I'm calm


Chills
Suddenly
An unprepared
Careless
Arching
Leap
Lifts me out
Of the water
Carries me
Through the air
Over a blue
Sparkling
Blur



For one lingering second
I'm soaring
Free of all my cares
Fear's chains
Shatter like glass
I feel my dry hair,
Flowing over me,
Daring to leave
Its resting place
On my back and I feel
The freedom of the sea-fresh air.
I watch my shadow
Cross over the cliff
Then disappear
In to an endless black mystery
Of space
Under the surface
The ocean's tear drops
Stream off the tips of my toes
Gracefully sparkling
Then becoming
Helplessly lost again
In this cobalt expanse
That makes the horizon glow.
For a split second I believe
In true freedom
But too soon
The moment of calm

Ends

I inhale sharply
Once my fingertips touch
The surface
The world resumes its hurtling speed
And so do I
As I plunge foot-by-foot
Piercing this not-quite-frozen ice
The chills never even left


Numb with satisfaction
And icy cold
I hear watered down sounds of
Waves crashing over me
I surface to satisfy
My lungs and
Cold skin
And soon
I drift up and
Down with
The current


I look ahead
And start my
Swim away
From shore


The destination
Is far away,
Hidden beyond my sight,

But at least
I can know that I

Have taken

The

First

Step.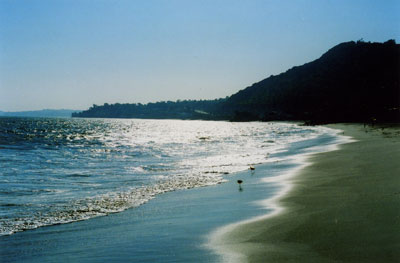 © Adam L., Washington, DC