What Goes Around...
March 12, 2012
This is what I remember,
The way you looked at me when you first saw me everyday,
your whole face would light up.
like you'd never seen anything better.
The way you'd hold me so close,
made me feel safe.
And the way you were always touching me, like you couldn't stop,
How sometimes you'd just stare into my eyes until I laughed or smiled,
now it just makes me want to cry,
because how did this happen?

You aren't just one person,
you're so many, the same story different chapter.
and I don't know how it goes from that, infatuation, ardor, addiction,
whatever...to this.
Distaste, disgust, dismissal.
And I can't help it I miss you,
I dream of you,
of our hands intertwined,
but this time I cherish every moment,
because I know it has an end.
And in my dreams I don't realize it isn't real,
until I wake up and remember,
the nightmare of losing you again, and again, and again.

And I relive that one night,
I had at least one night with all of you...
in that dress, that shirt, those shoes, that skin,
And it hits hits me all over again, why, how, when???

Was I blind, deaf, dumb??
Must be to make all the same mistakes over and over again.
To think that lust is love or that you can stay.
That you won't just leave me someday,
that your promises aren't just lies to get what you want.
That you don't laugh at my pain.
That this won't end with me crying into my pillow again,
while you just hang-up/walk- away/hug me.

Act like it's okay, well maybe you are,
but I'm not,
while you stand there laughing I'm over here breaking,
and now it's over again.

Same situation, different consequences,
thought I could change the outcome if I manipulated the variables,
solutions are all the same,
and these numbers are imaginary.

You're always taller, make me feel safe in your arms.
Make me feel like you are something different,
but it will always end, no matter how many secrets I tell, or how much I give.
Until I wonder if maybe I push you away,
but I don't know so I asked you.

And you said you'd let me know, that you'd never stop wanting me,
that you won't make the same mistake again.
Well you did, but now the only way you'll get me back,
is if it's for revenge.
I'll drive you crazy and leave you on the edge, and smile as I walk away...
"It's not a big deal."

And I wonder what you did with the picture I gave you/bracelet/my heart/soul.
did you leave them broken on the floor?
Full of shards of promises and hope?
Or are they rotting away in a landfill?
Glad to know I'm so disposable.

But this is my promise to you, all of you.
One day you'll see me again, smell my perfume, picture my face,
and you'll wonder, what if?
What if I hadn't broken her heart?
What if I'd been smart?
And you'll miss me, and you'll wish I were the one lying in your bed.
And you'll wish it was our baby in the next room,
but guess what??
I'll be gone, and you'll be left wanting something you will never have again.
What goes around comes around.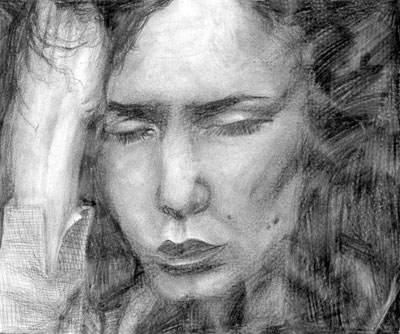 © Fallon K., Baldwin, NY