Sometimes
June 5, 2012
Sometimes I feel like drowning,
Like finding sweet relief,
Like walking to the ocean
And finally being free
I've lost all my devotion,
And it can only be my fault,
The cold water's salt
Has filled up my lungs,
So suck the water from my throat,
And save me from relief,
For I trespass the land of your lost soul,
And feed off of your life,
I suck out your color, your smile and blood,
I gracelessly take your light.
With my muted mouth,
I drag my teeth across your neck
To feel your beating heart,
My love, I can do nothing more but tear that sweet thing out-
For mine no longer beats.
No, It no longer beats,
I'm roaming through lit streets,
Finding nothing but the dark.
I play my sweet melody, with a silver harp,
Calling for a lover, for someone to shoot me with cruel cupid's dart,
So I may eat a nurturing heart.
And to save you from the monster,
That I have made of me,
My only option is going out to sea,
Though love can fill my heart with joy,
And give life to the mind I have withered on my own,
I still manage to rip the seams from my heart that you've so neatly sown,
I rip them out, I tear the string, don't let me in, don't let me in
You've let me in, oh what a sin,
To love a beast, that cannot breathe,
That cannot scream,
That cannot live,
Stuck in a hollow dream
And sometimes, oh- how sometimes I feel like falling,
Into the deep blue sea,
Sometimes I feel like sinking,
To my sweet melody,
Dragging my feet across the shore,
To only find relief,
Sometimes I feel like drowning,
Like going out to sea
And finding my relief.
Sometimes I find love,
But I mostly find grief.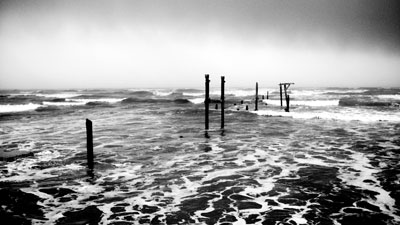 © Harrison L., Ruston, LA