When it all fades
July 28, 2012
The sages claim that time is relative,
but for something to be relative,
a basis for comparison is needed.

My well-established sense of time
was replaced by
the vortex of apprehension, and
for the first time since I was a child
I truly understood what it was to be timeless.
It is like being locked in a prison
of your mind as you sit for hours like a statue:
outward stillness and silence
juxtaposed with the waning sunshine overhead;
the frenetic pace of your intermittent heartbeat
in opposition to the maddeningly slow
TOCK. TOCK. TOCK.
of the clock that proves that relativity doesn't exist
in the homogeneity of what you hear;
the sinking feeling when you decide that
you can't trust your senses anymore
when you jerk yourself out of the your mind's
machinations
into what you want to believe is real,
to have something you can cling to.

But it's six o'clock yet again.
the equinox is still weeks away,
and you find yourself in darkness
that you're numb to.

This is what it feels like to be limp in the arms of the ocean.
That was when I learned that the colors fade to grey at sunset.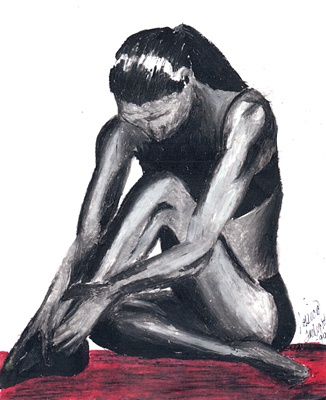 © Jessie Y., Ahwahnee, CA