Waiting for the Storm to Pass
September 24, 2012
A woman at the roadside waits for rain.

She knows it is coming. Sees it in the fading sun, hears it in the birds sudden silence, smells it in the rolling wind.

She breaks a flower roughly from its stem, inhaling the heady scent.

One raindrop hits the dust, the shot heard round the world.

She drops her flower.

Walks away.

And it rains, rains, rains, the harbinger of her own heavy tears.

They fall to earth like fragile liquid meteors,

Away.

And still it rains.
And still she cries.

Crying for everyone who has ever lost was should have been.

Her shoes are useless, she kicks them off.

And still it rains and rains.

Her heart beats in a stunning tattoo against her ribs.

It is a

Bird trying to break

Free.

She reaches the bridge. Looks down.

The water is rippling, assaulted with a billion raindrops.

She doesn't jump. She is
Too numb to make the effort.

But as quickly as it began, it's over and gone with the wind.

And the sun makes a hesitant appearance.

And the woman kneels in the mud.

Shields her eyes. Looks up.

There it is.

Sun.

It electrifies her. Shatters her bone deep ache

Into nonbeing.

She is not okay. Not happy. Not smiling.

But she is

Alive.

And for that, she rises to her bare, muddied feet.

Walks away.
Walks on.

No raindrops.

Just sun. Sun.

Sun.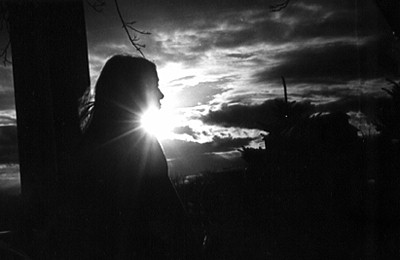 © Elizabeth G., Marblehead, MA