Music and Simplicity
December 26, 2012
Sleep ebbs like an outgoing tide
As the crisp morning air around me
Slowly fills with dramatic and wonderful sound.
I release myself from the embrace of slumber
And pull his sweatshirt tight around me.
Barefoot, I tiptoe into the living room
And watch his fingers fly gloriously over the keys.
Quietly I walk over to my place beside him.
Behind his closed eyes I wonder what he dreams,
Musical notes drifting among lovely images of me?
The music stops and his ice blue eyes snap open,
His hands come up to tenderly cradle my face.
His lips gently grace my forehead, my nose and my lips,
I take his hands in mine and hold them to my heart.
Feel it, I say. Then I give his hands back to the piano.
A new music fills these empty halls again,
And there is endless beauty in its simplicity.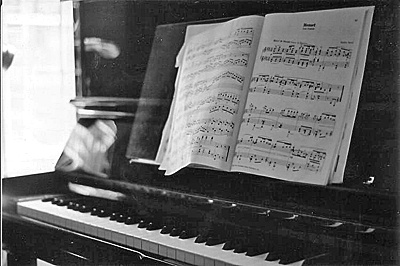 © Amy C., Portland , ME