She Stands Alone
January 11, 2013
A red tulip stands alone.
Amidst the frosty months,
She shrivels up in the weight
Of the snow.
But she comes back.
Always.

As soon as the green
Blades of grass poke
Through the white,
She is there.
Again.

Her home is unkempt
And surrounded by a
Wall of bricks.
Weeds grow around her,
No one cuts them down.
Yet she stands taller,
More beautiful.

When the dirt
Becomes dry,
No one gives water to her parched roots.
She stills stands,
Faithfully staying.

The brown leaves start to fall,
Hiding her color from the world.
No one comes to clear the leaves away.
She still opens her petals
Every morning.

Puffy, white snowflakes hit
The frozen soil.
She shivers slightly.
Why does she stay?
Why does she fight?

A girl stands alone,
Twirling on the pavement,
Letting the cold drops
Hit her tiny face.
She shivers in the wind.

The girl looks to the
Spot where she had placed
Red bricks like a
Protective wall.
She smiles,
Seeing the flower.
Still red as a Valentine's rose.
Still standing.

Protected behind a wall of bricks,
A red tulip stands alone.
Stuck behind the walls of a brick house,
A girl stands alone.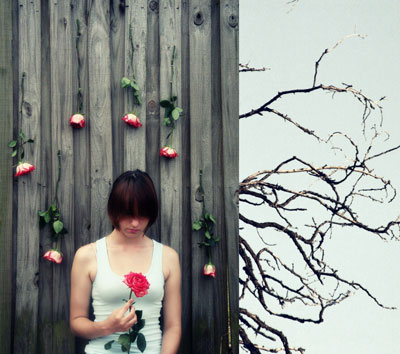 © Taylor S., Deltona, FL