Generation Y
April 14, 2013
our parents are the boomers
Or generation X
they call us Generation Y
And we know how to text.

We always had the internet
And our language has evolved
We're googling for information
When a problem must be solved.

As children we watched Dragon Tales
Fantasy is our thing
And Sponge Bob and Rugrats
Helped our dreams take wing.

Our pets were tamagachis
In our pockets they would stay
We fed them in our classroom
To get them through the day.

Pokeman cards, a collection
To trade to play to hold
And beenie babies and webkinz
Everywhere were sold.

We discovered Harry Potter
As our reading grew
Hogwarts was our classroom
And the spells we all knew.

Our houses had new meaning
As we chose where to be
I always was a Griffyndor
And Hermione was like me.

Some say we have grown too fast
Others we never did at all
But with 25 million of us
It's too early to make the call.

It's a world of new complications
That are our new frontier
To guard our on-line reputation
Is something we must fear

With facebook as our network
As our friend lists grow
Our boyfriends post our breakup
Before we even know.

In a world where viral
Is not just a disease
We navigate new challenges
But still we seek to please

Our competition is as likely
As our aspirations soar
To come not just from Sequim
But also from Singapore.

they speak the queens best English
And do algebra at five
Are schooled in the etiquette
And all the other jive.

So we aspire to win our place
With a perfect show to make
An A minus is as good as F
And every challenge take.

We analyze Great Gatsby
Take calculus senior year
With sports and dance and theater
We must also volunteer.

Warned of Global warming
And the terrorist attacks
The lack of jobs for our future
And a billion other facts.

We see no difference in black or white
For the color of your skin
And that a woman's wages are not equal
To men's is quite a sin.

We have no time for cynicism
We will make our future bright
And I hope you'll join us
As our dreams take flight.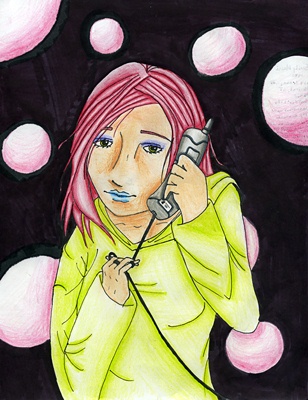 © Emily M., Milford, CT