The Walk
April 28, 2013
The sidewalk speaks to me openly, silently, as if we were
friends once before. It's brittle with knowledge of rubber soles and I ask
it "Where do you lead if I keep walking?" But it just smiles and opens slowly before me.
My pace quickens, body stiffens, I am hit with a gust of
wind. But it's just the wind after all. The sidewalk eagerly urges me forward.
Among the brown lines missing leaves and emerging grass, I sense
Spring. The thump of my feet coincides with my heart and I become one with the Earth.
I thank the sidewalk for supporting my weight but I am
unheard. I ask the sidewalk, then, to lead me to the boy with whom I've
spent years. But the sidewalk tells me that that time will come,and we continue
on. To my left, my Father's house wears a steeple with intimidating beauty.
Behind stained glass windows my faith mocks me and I turn away with a
gasp.
Continue, closed eyes, I will not falter once more. We carry on...
Counting steps, "eighty-one, eighty-two," counting cracks, "sixty-three,"
counting minutes and hours and days for which the sidewalk continues.
The sidewalk continues.
"When is the end?" I ask, for I'm tired and apprehensive as we enter darkness, obscurity.
The sidewalk dissapears beneath me; I'm blind and suddenly lose without my guide, lost
within my mind, the sidewalk is gone. And so life begins.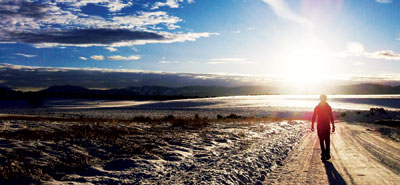 © Brendan P., Carbondale, CO