The One for Me
May 18, 2013
Never thought it would be you I'd be falling this hard for.
Waking up with a smile on my face, counting down the time till I see you again.
Never thought it would be your voice soothing my ears
Making my heart beat to the rhythm of chills you send creaking down my spine.

As I gaze up at the stars
They twinkle in my eyes

I never thought that it would be your kiss I'd be longing for at the days end
This thought reminisces in the corners of my darkened mind.
I never thought that our paths would be crossed, this thought
Makes the wings of the butterflies upon my stomach dance to the melody.

As I look into your blue ocean eyes
Your lips caress the thought of making me, yours

I surrender to the war inside of me,
My feet walk on the morning crisp grass, crackling fills the sound waves
As the leaves crunch beneath my feet
On the cold, hard ground
For the trees shiver in the absence of their leaves

As a shiver runs down my spine
My mind knows the task that must be done

My steps lead me to the grave, and I place the red rose on the stone
As my blood flows through my veins
Making my heart pound to the beat of goodbye
Tears flood my eyes as a river falls upon my burning cheeks

I know I must move on
Since the war is over

The signs of evil have won
Somewhere out there evil lurks in my mind

I know I will stumble upon the one that was made for me.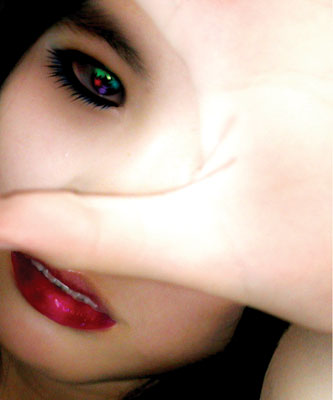 © Victoria W., Arcadia, CA