In Love with the World
September 6, 2013
I swear I'm in love with the world,
with the way the rain drenches the earth,
with the stars that wink above us,
with the humans who are always
making magnificent fools of themselves
by falling in love
and falling apart
and chasing their fragile dreams,
bursting with the hope
that things will be better
one day.
I swear I'm in love with the world,
because the thought of leaving it
makes my heart twinge,
leaving this place,
with all its ferocious
love and vibrancy and chance
will be like
leaving heaven.
Because the ones I love are here
growing and laughing and learning
spinning through the galaxy
the way the hands of a clock
spin through time,
pulsing with possibility,
thrumming with the unknown,
moving to the very beat of the universe.
And I feel so fiercely
in love with it,
all of it,
that I wish I could honor
every inch of the planet.
Perhaps then
I will be content
when the day comes for me
to uncurl my fingers
from this life
and give it gently
back to earth.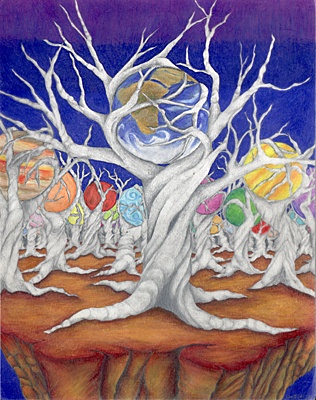 © Sara P., Lake Mary, FL