Heartbroken
April 17, 2014
Well, when it all began she was small and slender
and she looked at the world trustingly.

Her world was small,
then.

It expanded. Her world grew larger
and with it grew her love; her innocent self could not love enough.
She loved them all—
how could she not?

Her love was boundless.
It extended to all things—

mosquitoes and scorpions, vile things,


and

plants and humans….
Humans. So many.

So much pain.
She let them cry on her,

scream at her,

bend her and hit her and ignore her—


and she gave them her healing love.
Still her love went on, but she was mirthless.

The world was cruel and she was tired.
Oh, her roots supported her but she knew not how!
Her limbs were weary.
Her leaves were heavy

and so was her heart,
her heart that could not cease loving.
Never would her love die or pale, but her burden was heavy,

her innocence gone.
They came to her for solace.

She gave it.
They poured out their hearts to her—she listened.
And when they unleashed their anger in her presence,

let their rage wash in waves over her,

She bore it and she filled their hearts with her love and she gave them peace.
But she had seen her kind.
She had watched them die, and she had wept for them.
Yet rooted to her place by Fate's cruel plan, she could not move when they came.

She wouldn't have, even if she had been able.

They came.

And she let her proud leaves droop, and she loved them when they came to her.
She loved them with all her might.
And she knew her time had come.

What was left for her?
her child was gone, gone forever,
her branches were heavy,
her love had been given.

There was nothing left.
Well, they took her.
She went quietly and let them abuse her broken boughs, her broken body.
She had done nothing.

No transgression had she committed. She had only loved.
Her work was finished.
And then the anguish! Oh, their anguish—
It overcame them and they were powerless at its hands.

And they wept.
They looked at her once-proud boughs,

now crumpled, broken and beaten, upon the ground.

They remembered the love she had given them in their despair….
And they wept at what they had done.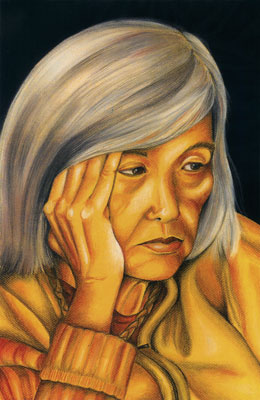 © Kaitlin C., Forest Hills, NY