The Last Moments of Dear Juliet
June 17, 2014
i saw his eyes,
filled with tears they were,
glinting in the fire light.
i wanted so dearly
to move my hands to those tears
and wipe them away,
feel the warmth of his skin.
oh how he cried,
how he wept,
how he spoke such loving words,
it broke my still heart.

i felt his arms
hold me close,
i heard his heavy heart
beating strong,
if only he knew just how fast
my own desperatley
wanted to race.
race away with him
to lay with him under every night sky,
to live with him
until decaying youth and time swallowed
our hallowed bodies under the earth
and we were left to wander the heavens together.

i felt his lips on my own,
and how i loved the feel,
i'd dreamt of the moment i'd feel them again,
forgetting all the hatred and death and sorrow.
we no longer had to hide behind secrets
or covers of night with rushed kisses
and dreaded departures tearing our
hands away from one last touch,
one more moment.
now our love would be free to blossom
and count away the infinite hours.

i moved my fingers,
i filled my lungs with air,
i opened my eyes and saw his own looking at me.
i saw his shock, his grief, his happiness.
i smiled at him
and he smiled back, but soon he fell,
he fell beside me and with his sweet voice
i heard him speak of death,
and then death took him.
i held his cold body with graceful features
tearing at my feelings.
i was left to agnoize over him.

forbidden our love was,
but wrong it wasn't.
wrong is was to have it cut
from the flesh world so quickly.
now we were sentenced to love as ghosts,
and i would not let him lay there alone.
i pierced my grieving heart
and pain-stricken and in love,


i died.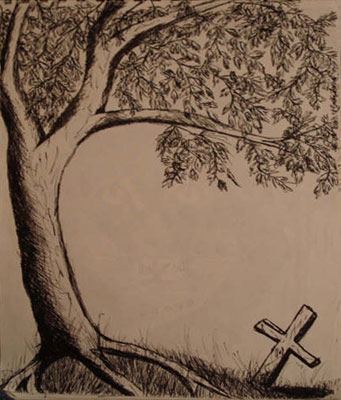 © Courtney K., Bethel Park, PA