Thirteen
June 17, 2014
this young girl,

she knew things of temptation.

she knew feelings of trepedation.

she knew what it was to lie.



she showed too much skin,

she unwillingly let him in,

when she didn't know what he was doing.

because it seemed sweet at first.

weirdly sweet.



but he thought her trust was a long road

to an innocent center

that he didn't have permission to touch.

and he scared her when he decided

that he had every right to go down it,

inching his way closer and closer.



her skin crawled,

and her heart raced,

and in her mind she wished for her mom,

she wished to God

that he wouldn't try to take her body

under his.



he had done just enough

when she finally found a voice

to yell

to whimper

to make him face her

and pull away.



she couldn't enjoy

the rest of the time she had there,

she couldn't enjoy sleeping under the same roof.

constantly thinking

what he did,

what he wanted to do,

what he would do.

what if he did do...



she would run into the trees,

she would stare into the TV,

she would go to the lake

and surround herself in the murkiness.



even when she put miles between them

in the safety of her mother's arms,

she couldn't shake the thought of,

his hand,

his face,

his whiskey,

his greed,

his hateful words,

his print he had left on her.



she couldn't shake

the memory.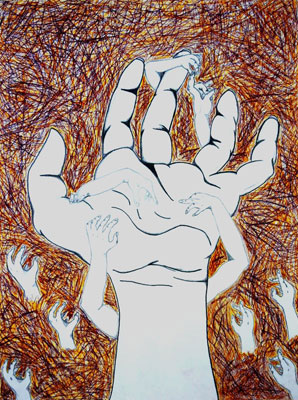 © Ariana R., New Orleans, LA