Mr. Benett
July 2, 2014
Out in the country,
that's where one can find peace.
At least, that what's been said.
But if one were to look closely,
into the thick trees of green,
one can always find the dead.

Certain shadows can stalk,
others need to wait,
But they always find thier mark.
Because everything fades,
night evolves from day,
and light turns into dark.

Yes, even a happy tale,
can suddenly turn bad,
leaving the listener scared and sad.
Like Mr. Benett, whose old age,
took his eyesight away,
and slowly turned him mad.

Mr. Benett was left alone,
for their was no one left,
on whom Mr. Benett could depend.
So he spent his days by staring
at nothing until one day,
Mr. Benett reached the end.

Yet Mr. Benett still stays,
dead but not gone,
in his house still alone.
People do not come,
for something is wrong,
they feel it in their bones.

Despite their warnings,
and their dumbfounded looks,
with their shocked stares.
A couple moved in with
Mr. Bennett, both
blissfully unaware.

So tell me Mr. Benett is
no longer around.
For ghosts surely cannot be true.
But if I'm alone in the house,
whose eyes are those,
if it can't possibly be you?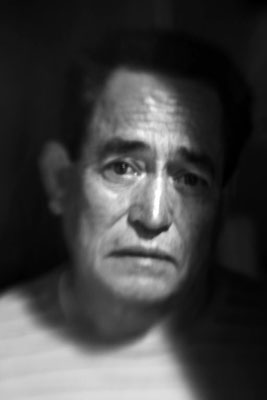 © Adam P., Goleta, CA