10 Unanswered Questions from a Fatherless Daughter.
October 22, 2014
TEN UNANSWERED QUESTIONS FROM A FATHERLESS DAUGHTER
10. How do you spend your Saturday mornings? Do you watch cartoons and eat cereal like an over-sized child? Or are you a work around the house type of guy? Making things in the garage and fixing the leaking pipes of the house, or reading the newspaper and getting a late start to the day?
9. Do you like to fish? Is that something I inherited from you, or did I pick it up randomly from a stranger on the street, the way I did my kindness and compassion because God knows that didn't come from you? If I were to bring it up would you know the baits and reels and areas to go, or would you smile and nod along pretending to understand the way I do in chemistry class?
8. Have you ever regretted leaving? Do you ever miss me? Is it as painful for you to try to know me as it for me to watch you try? Do you regret letting yourself lose me? Or does your new family make you forget about the old one?
7. What made you decide to come back? Did you need me? Did you need to feel like a decent father? Did you delude yourself into thinking I needed you? Because let me make one thing clear, I don't need you. I've been fine without you this long, you being here now doesn't somehow make me better than I already was. You can't fix what I refuse to admit is broken.
6. What were your thoughts on the day I was born? Did you create big plans for me in your head? Did you hold mom and tell her that she did good? Did you tell the older kids that they had a little sister? Or was your mind blank, not sure what to think? Did you just sit and stare at your new baby girl, knowing even then, that you wouldn't be in her life for long?
5. Do you remember where you were when you decided to leave? Were you putting us to bed, or making dinner, or watching TV, or reading to us? Do you remember the moment you decided to change my life forever, or is it just another long gone memory, on the path to who you are?
4. Did you ever even want kids? Were we just "happy accidents" as the phrase goes, or were you devastated? Was I the end of your dreams, or the start of them? If you had waiting five years, would you have been a better father, more of a "family man", or is destiny un—dependent on time and age?
3. Did you know that because you left I am 32 times more likely to become a homeless or runaway child? I am 9 more likely to drop out of high school before I get a diploma. I am 10 times more likely to develop a substance abuse problem. I am 53% more likely to get married as a teenager. I am 71% more likely to have a teenage pregnancy. I am 63% more likely to commit teenage suicide. Did you know about all the statistics before you left, or were you unconcerned about the consequences of your decisions? 
2. If we passed on the street would you recognize me? You'd probably find my physical features familiar, after all they are yours too. On a list of things I got from you, my eyes and hair would be at the top. But I doubt you would recognize much else on that list. The way I walk with power in my stride to make sure everyone knows I am not to be messed with, the daggers that I shoot out of my eyes towards anyone who dares to look at me so they know not to get close to the broken girl, and the warzone that I carry in my mind on if I could ever forgive you. If I could ever get over it like everyone says I should. If there is anything that could ever be done to build a bridge big enough for crossing the canyon you created between us. If you saw me walking down the street with my combat boots, black eyeliner, and leather jacket, would you make the connection that this is the little girl that used to wear pink, and bows, and tutus? Would you recognize the girl with short spikey hair as the same with you used to give ponytails to? Would you recognize the innocence hiding behind the pain in my blue eyes, your blue eyes? Or would you walk right on by thinking I was just another stranger? We are strangers, and no amount of guilt gifts or late birthday cards will ever fix that.
1. Do you know that I refuse to become another statistic? I refuse to allow my life choices be dictated or blamed on a rash decision you made. I will not be another girl with "daddy issues". I will not become a girl who is used more than she is loved. I will not become an addict, like you are. I will rise from the ashes of your decision like a phoenix rising from the flames that killed it. Sometimes you have to be destroyed to become the thing you were created to be. And you destroyed me, but I will be the one rebuilding myself into something stronger than I ever could have been with you.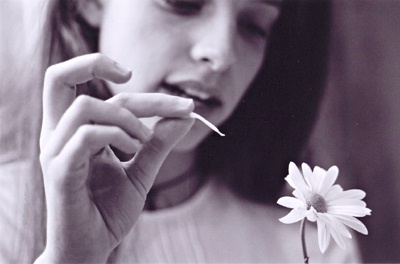 © Emily B., Houston, TX