Riding in the Rain
December 19, 2014
There's something about the sound of rain,
the deluge of water, and its earthy smell,
splattering as it hits the asphalt.
Usually, I hide inside,
wrapped in blankets as I watch cartoons
and sip steaming potato cheese soup
and listen to the rain pelt our roof.
But today is different.
I am restless and am tired of this numbing complacency.
The pounding rain is calling me, almost like it's daring me.
Daring me to come outside and feel its wicked power,
to be battered by torrents of water mercilessly hammering down on me.
So, I dash to the garage, hop onto my bike and accept the challenge.
Soon, my clothes are drenched to the skin with ice cold, exhilarating water.
My exuberance and adrenaline keep the chill at bay as I fly down the street.
My tires furiously clutch water droplets,
which spray my legs and back as marbles of frigid liquid strike my face.
Now, after almost a half hour, I'm still out, laughing and zipping up and down empty driveways.
I'm not heeding the rain's threat of cold and this simple act of rebellion delights me.
I've defiantly endured the icy sting of the rain for long enough that I have begun to forget it.
I am no longer warm and secure,
but I am free.
Free to feel the deluge of water,
to watch the forests of ripples,
to drink in its earthy smell,
and listen to it,
as it splashes against the asphalt.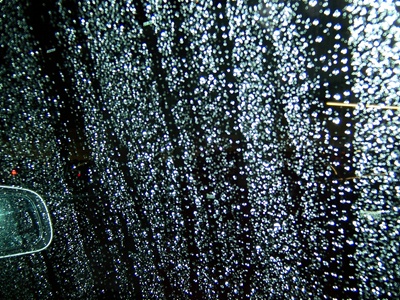 © Jessica L., San Jose, CA