(Him)
MAG
September 21, 2015
White paint-coated fingers tangled in mine,
His earthy aroma straggles behind us,
Like the cans on the back of a "Just Married" car.
His lips curve into an oblique smirk,
A drab flannel hangs on his limbs.
Chocolate waves of hair crash onto his forehead,
Hiding his eyes.
Turning to me, words slide out of his mouth,
Wrapping themselves around me.
Each sentence that leaves his mouth lingers
With the harsh scent of sugarless coffee.
Beat up sneakers step closer and closer,
My heart crawls up my throat.
Closer and closer until suddenly,
My eyes open.
There I lay in striped pajama pants,
A clock glows "3:17 a.m." to my right.
As I confusingly look around,
I realize I'm in bed,
Alone.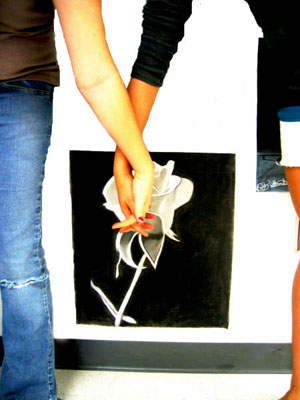 © Josie G., Wilmot, SD