The Never Ending Dance of Life
November 15, 2015
Life is like doing improvised dancing to music you don't know:
You never know when the tempo will change
and it's impossible to plan out exactly how you're going to react to it
Sometimes you'll want to show off your best allegro step but the music will suddenly change,
and the only move that will suffice
is rolling onto the floor and ringing your hands in anguish
And then the music will change again;
and you must find a graceful way to pick yourself back up and demonstrate a perfect arabesque
And sometimes when the music calls for turning,
you'll forget to spot your head and the universe will start spinning around you,
and as you fall down you will hear a faint boo-ing from the audience
before the stage goes black
A few seconds later,
you'll come to with a start,
and your eyes will snap open as the music soars
The quickening tempo will call for you,
"get up, get up! This is your time to jeté!"
At first, you will think to yourself,
"it's only a jeté, why would I get up for a jeté when it is so easy to stay here on the ground?"
And then you will remember how much you love to jeté
And so, you will get up,
perhaps not gracefully (because you want to execute at least one jeté before the tempo changes),
but you will get up 
And you'll keep dancing.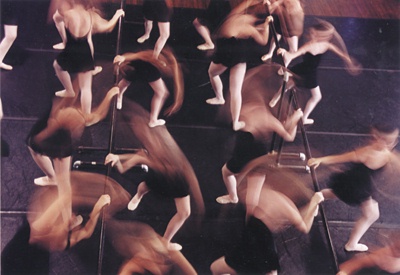 © Sophie K., Cambridge, MA