Don't Fall Asleep
November 17, 2015
We are the people who don't want to sleep.
We are the only ones that know the truth.
Our parents chased him downed and cooked him.
Don't Fall Asleep.
We listen to the little girls singing while playing jump rope.
We know who the ------- son of a thousand maniacs is.
Nancy woke up with a piece of him.
Nancy's friends and my friends, haven't woke up at all.
Don't Fall Asleep.
I hear the sound of the crucifix falling of the wall.
I can clearly hear the unwanted sound of someone bouncing a ball.
I was cut in bed.
I knew people who found dead.
Don't Fall Asleep.
Nancy's boyfriend was sucked into the bed.
The kids in class gave the man a juicy apple.
The man wears a razor glove.
I need to give The Dream Child love.
I'm apart of the Dream Warriors that stay for the fight.
I'm one of the few kids that still sleep with a nigh-light.
I once live with Nancy on 1428 Elm Street.
The man thinks her soul is sweet.
The man is burnt, wearing a striped Christmas sweater.
His name is Freddy Krueger, and as Nancy told me.
DON'T FALL ASLEEP.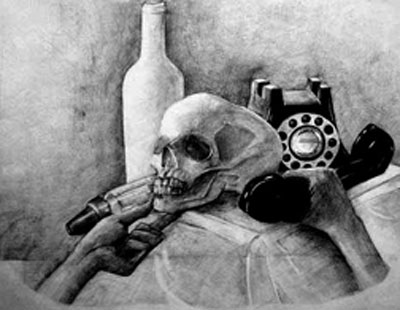 © Xiao H., Naperville, IL