On the Forefront of Change
MAG
February 8, 2016
me: contrite and repentant
you: confused and misunderstood
I was Haber and you were George
relentless, unforgiving
I took advantage of your gentle nature
and you were helpless
oh, so helpless
like a cobra I bore my fangs
and spewed my venom
you, timid mouse, kept returning
hoping I would eventually change my mind,
that, eventually, I might change
and change I did
but it came too late
you'd left my den
left me for dead
it took a while, but finally – finally
I realized my wrong
how I'd wronged you
I couldn't wrap my head around it
my heart beat heavy
I glanced away from mirrors
because now I saw myself in you
and saw you in myself
no way did I deserve your kindness
but you showed it to me anyway
happy, smiling, joking
herald in my puddly self
the morning that you made bright
was darkened by my remorse
my history has been stuck on repeat
it seems my mistakes will never teach me
turn down the heat on my boiling anger
move it to the back burner – how can
you be smiling?
why are you so kind, forgiving?
I'm sorry is not enough, but – maybe –
it's a start.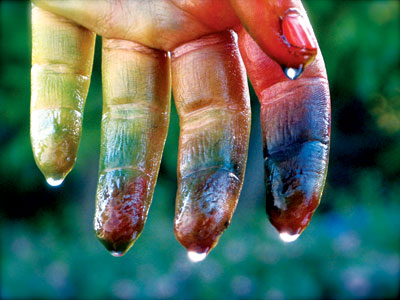 © Allison F., Menlo Park, CA