The Duet
April 11, 2016
That song, that awful terrible song.
The absurd sting. The foolish decision. The irony of it all.
Me, staring down at the black and white grin of the piano keys,
every atom in my body screaming with awareness of you.
If I didn't look at you, not even once.
If I kept my gaze elsewhere. If I leveled my tone to a sedated monotone.
If I talked about pace and rhythm and chorus and speed up there and slow down here and yes, yes, like that, beautiful. If I didn't watch your hands on the bow or the bow on the strings
or the light on your face. If I crushed those violets of want blooming in my belly.
If I built myself a castle of steel through which you could never penetrate, maybe,
maybe, I could reach a quivering sort of equilibrium.
But that song. The melody mocking me, mocking
my heartache,
pointing to my hidden places and yanking the curtain aside.
It shouldn't have been romantic, not the stone in my chest, nor the frigid fact of my unreciprocated feelings.
But god, the room shrank until it seemed as if you had hollowed me out and
saturated me with yourself, that the end of me
and the beginning of you had become completely indistinguishable,
my heartbeat so loud we should have heard it echo
off the walls.
That song and that glow and that loss. That soft desire,
that song I should never have suggested we play, that ruin.
That song and you and
you.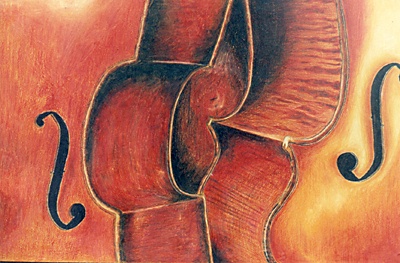 © George N., Houston, TX