To A girl
May 19, 2010
I met a girl that knew it all,
Who walked down streets to feel proud and tall,
But she went to the lake one start of spring,
Looked into the water and then knew nothing.

And I'm standing in the foyer,
And I'm waiting to come in,
While the weeping willow's straightening up,
You can only blame it on your kin.
Hope you're satisfied, I hope your arms are flinging out,
And I hope these revelations
Will take all your jubilations.

With great big leaps I've seized the man,
The one who said "I think I can."
But there's one problem with his face:
His eyes are red and his skin is gray.

With all the power that I am,
I still won't be what I am.
So what's the good of staying pretty
If it all flashes away with the pity.

(This dog I knew was on the ground.
It knew that it was on the ground,
And it played dead with itself for a while,
While I squatted there and saw the bile.)

Well I'm standing here, in the foyer,
Hoping that you'll de-fortify,
Please be gentle when you touch me,
I hope that you've been notified.
Right now I've been round the world,
While you just had your pigtails curled,
So what are you doing in the foyer?
Configure yourself and let me in.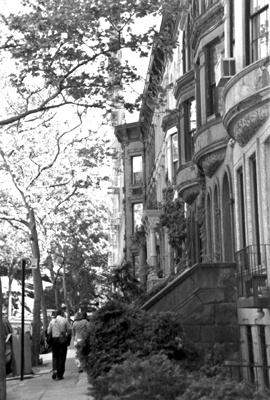 © Sarah M., Phoenix, AZ