Perks of Being a Wallflower
October 31, 2018
"So this is my life. And I want you to know that I am both happy and sad and I'm still trying to figure out how this could be." (2). From the beginning Charlie always doubted himself. Towards the end of his freshman year despite the obstacles he faces, Charlie grows from a kid who never liked "participating" in life to a more outgoing kid. All the tragedies in his life helped him find hope within himself. Charlie's experiences with mental health, and closure from Charlie himself, and others around him, led him to find hope.
Charlie, his family, and even some of his friends have had some issues with mental health. "Some kids look at me strange in the hallways because I don't decorate my locker, and I'm the one who beat up Sean and couldn't stop crying after I did it." (8). People assumed that Charlie was a "freak", because he didn't do the things that they considered "normal". Something like this effected Charlie's self-esteem, and had a negative impact on the way he viewed himself. At a point in Charlie's life, he regrettably made a mistake to kiss Sam right in front of his girlfriend; Mary Elizabeth. This was the down spiral of his first depressive episode in a long time (135-149). In his writing and in his letters you could tell that Charlie was slowly getting worse and worse. Throughout his down spiral, Charlie turns to drugs as an escape from the depression he was feeling after he thought he had lost everyone he loved. Another victim of issues with mental health was Charlie's sister. Charlie's sister started off as a woman who talked about empowerment and how women mattered. She began to have a normal relationship which then soon turned into an abusive relationship. As the relationship continued her mental state started to deteriorate, and so she finally lost it (116). Her breaking point was when she found out she was pregnant and her boyfriend assumed she was pregnant from somebody else, so he ended the relationship. Leaving her to make the tough decision of aborting the baby, and although it may have hurt her to do so, she ended things with her boyfriend once and for all. For Charlie it was hard for him believe how one of his favorite people, also ended going through some hardships. His Aunt Helen faced many obstacles (5) and unfortunately those experiences caused her to make some very terrible choices. She was abused by many men, both mentally and physically which led her to have some mental health issues. She ended up becoming the men that abused her. Chbosky instructs his readers to talk about mental health if need be, because no one deserves to go through every hard thing in their lives by themselves.
"Maybe it's good to put things in perspective, but sometimes, I think that the only perspective is to really be there." (212). Closure may be one of the most important thing in a person's life. Closure helps us close certain chapters in our lives, letting us start a new one. After Michael's suicide, Charlie was very lonely. His subconscious mind found closure when he finally allowed himself to make new friends and "participate" in life (19). Charlie's depressive episode when the whole Mary Elizabeth fiasco occurred, eventually ended after his friends forgave Charlie and they made up (153, 154). The one thing that really helped him find closure was when Mary Elizabeth finally forgave him and told him how she was very happy with her new boyfriend, and that he didn't have to worry about her anymore The most important closure Charlie found was when he forgave his Aunt and talked about his Aunt Helen molesting him. Chbosky shows the reader that finding closure can help the soul heal from all the damage it has been through.
Charlie finally finds hope at the end of his freshman year. Beginning of his freshman year Charlie never even gave a thought to his future. Towards the end of the book, seeing his friends and sister graduate got him to start thinking about the future (167, 172). Forgiving everyone's faults was the next step. Charlie gave everyone the benefit of the doubt including his Aunt Helen (211-212). Finally, the final step was Charlie believing in himself and knowing that he will be okay even if he feels like he isn't (213). "So if this does end up being my last letter, please believe that things are good with me, and even when they're not, they will be soon enough. And I will believe the same about you." (213). Chbosky shows the reader through this quote that no matter what you're going through there will always be hope. All you need is to reach for it.
"So, I guess we are who we are for a lot of reasons. And maybe we'll never know most of them. But even if we don't have the power to choose where we come from, we can still choose where we go from there." (211). Without these life experiences Charlie would not be the person he is meant to be. Nobody would be where they are today, the things we experience in life that makes and breaks us is what makes us human. Experiences with mental health, closure and hope is what shapes us into the people we become. The author published this story to show us that even when things get rough, we need to keep going, because there will always be a light at the end of a tunnel.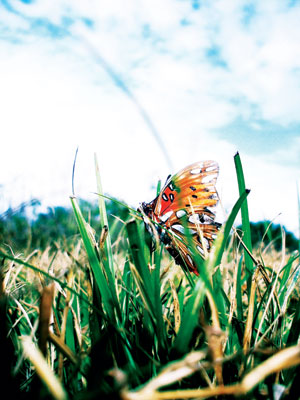 © Ashley B., North Port, FL