Harry Potter and the Sorcerer's Stone
September 17, 2018
Harry Potter and the Sorcerer's Stone is the first movie in the Harry Potter franchise and tells the tale of Harry Potter's first year at Hogwarts school of wizardry. Harry Potter is just a young child who lives with his aunt and uncle and their child, Dudley. The trio is cruel, cold and treat Harry like he's a dirty, evil servant. He lives in a cupboard and helps the family on each and every whim that they request. However, Harry Potter's entire world is thrown for a tailspin when a mysterious, black-bearded man informs Harry on his eleventh birthday that he is the orphan of two powerful wizards. Harry soon discovers that he possesses magical powers of his own and that he's been selected to Hogwarts, which is an English boarding school for young witches and wizards, and is one of the most prestigious wizarding schools in the entire world. While at Hogwarts, Harry Potter learns about the strange scar on his forehead, the death of his parents, meets new, exciting friends, and relationships that will forever change the young lad's life.

The entire movie does J.K. Rowling's book justice, as well as provide her loyal fans with an entertaining movie that never ceases to amaze and make people want to become wizards, just like the beloved Harry Potter. This movie introduces some splendidly spectacular protagonists that are irresistible to just about anyone and everyone. The visual effects of the movie are just outstanding, and with ease it captures the viewer's attention.
The movie brilliantly begins, has an exceptionally excellent ending, and a mind-blowing middle that instantly makes the movie a must-see classic that everybody needs to see. Daniel Radcliffe's Harry is lovable, relatable, and the performance is magnificent and special. Because the movie makes a wise decision in staying true to the actual novel, Harry Potter and the Sorcerer's Stone manages to turn a game-changing classic into an extraordinary film that is significantly memorable.
It's easy to see how Rotten Tomatoes gave the movie a fairly high 80%, but the truly remarkable accomplishment is that an astounding 96% of Google users liked the movie. Not only does Harry Potter find himself being sent into an amazing world of magic, but so does the audience that gets captured and travels alongside him. In the simplest terms, this movie is magical in every sense and definition of the word.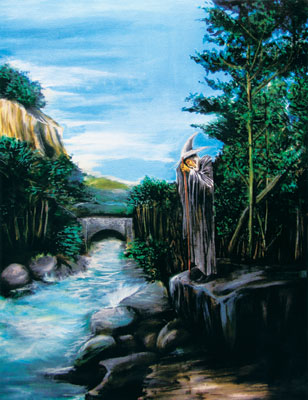 © Mick G., Bellevue, NE