50,000 Words
MAG
March 31, 2010
As my family slept in the darkened hotel room, I pounded away at my laptop, struggling to keep my eyes open as I typed. Despite the late hour, this day was like any other during November: I had a 2,000-word quota to fill, and I would not sleep until I met it. This was NaNoWriMo, and I was determined to make it to 50,000 words by the end of the month.

It was junior year, and my second year participating in National Novel Writing Month, a challenge to write a 50,000-word novel during the month of November. I had discovered NaNoWriMo sophomore year, and I tried it (and won) for the first time that November. Now at the beginning of November in my junior year, I was prepared. Armed with a plot outline, my trusty laptop, and endless cups of tea, I was ready to begin.

On the morning of Nov. 1, I embarked on my second voyage into the land of noveling, entering the World War II English countryside in which I had set my story. The month was out of the ordinary, to say the least, with a combination of noveling, schoolwork, college visits, and marching band.

I wrote at a frantic speed during lunch periods and between classes. I finished my homework quickly in order to have novel-writing time, and, as my fellow color guard members can attest, I even brought a notebook to write in during the non-halftime minutes of our school's weekly football games.

On the night of Nov. 28, sitting at my computer, I gave the screen one last look and slowly, carefully, typed my final words. Though it was only a rough draft, I had a novel: 50,000 words, a neatly finished story, a perfectly imperfect beginning, middle, and end. I would miss my setting and my characters, but I knew I would see them again, eventually, for a rewrite sometime in the future.

I have a permanent NaNoWriMo viewpoint now, and from here, I have yet to encounter a writing assignment too big. The prospect of an 800-word article or a two-page essay isn't nearly as daunting when you've written 2,000 words a day for a month.

I've gained a certain kinship with others who have participated in NaNoWriMo, and I know they are in a situation similar to mine. In my ordinary life, I am a daughter, a sister, a student, a friend. But as of my past two Novembers, although I am not the least bit famous, I am a novelist.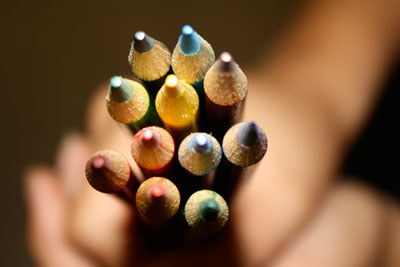 © Krista S., Newport Coast, CA