When Jealous Girlfriends attack
September 21, 2009
12 A.M. rises. I'm lurking down in a vaguely familiar hallway. Then I see her: Sandi Trotsky. She's in her volleyball uniform. Just another way to show off how she's more athletic than me, I guess. She comes my way. People start bowing down to her "lovely" shin guards, as her pony tail sassily whips its way around those bowing minions of her. She stops. We look face-to-face as if we're reflections. But we're not. How could we? We're total opposites. Just as I thought this moment couldn't get anymore awkward for me, she brings even more of a discomfort down my coiled core as she loathes out as she walks towards me:
"YOU. BETTER. WATCH. YOUR. BACK."
I look at my back in confusion and fear, pretending not to know. But I know what she means. Her boyfriend, Josh Hadley, was the guy I have eyed for years and more to come. She wouldn't let that happen. I decide to do what I need to stay alive: Run out. I feel relief almost at my grasp. But I see her instead. She growls, "I know you like my guy. And you can talk to him, and sing with him all you want (we're in chorus together), but I will NOT let you touch him or talk to him at all!" Running up the stairs, I only see her at the top. God, she was like Nightcrawler from the X-Men. "What's the matter, Lynn? Too scared to fight me? Well, ya should've thought about that before you eyed MY Josh. You can run as much as you like, but you can't hide!" God, had the lady lost her marbles. Finally, I get courage in my gut to take out the words:
"Leave. me. ALONE! Big deal, I like Josh, so to twenty other women here. Why don't you go personally hurt them?"
"Well, he sees something in YOU, and I'm going to take it out of you!"
Suddenly, her tower-like friends Gina and Mel come out and say, "Me too!" And so yet again, I'm running. I know, I'm a coward, but this is the Wonder Woman, the Gabrielle Reece of Monty High. I wasn't going to put up a fight with her! No one would. I blink, wondering how obvious I was about my crush on Hadley. After that one blink, an army of volleyball players come together like moths under the naked floursecent lights. With her Napolean-esque strength in voice, Sandi screams'
"Ready."
"AIIIIIMMM....F---"
"Lynn, it's seven AM. Wake up now!"
I scream for life, only to find my mom, impatiently waiting on me to wake up. "Sweetie, have you lost your mind?" she says. I realize I was only dreaming. I dress like a tornado, chug granola and OJ in my system, and leave the nightmare that has never occured. I eye Sandi in the hallways, having her fingers clenched up into Josh's wonderful specimen of a bicep. I sigh and walk away from that subtle-looking eyesore we call PDA, and think of one day asking Josh out. At least in my dreams.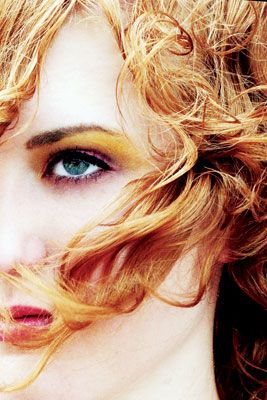 © Rebecca B., Marietta, GA