The Perfect Crime- Chapter One
November 1, 2009
Chapter One- The Beginning



I walked down the hallway to the courtroom, my black pumps making a click, click, click sound. As a district attorney, I had to look good; That's why I was wearing my navy, straight, knee-length skirt, with a matching blazer, and crisp white shirt underneath. My raven black hair was pulled up with my barrette, and I smiled silently to myself as I reached the courtroom's door.

The thick doors were made of maple wood, with a clear finishing. Brass handles adorned it, and I grasped one, pulling it open with the hand that wasn't clutching my briefcase. The smell of the courtroom hit me hard, and I inhaled the delicious scent. The courtroom always smelled like clean linen, with a hint of vanilla. I walked in with a straight face, even though I wanted to smile.

My eyes hit my client, a CIA agent, who was going to get discharged for alcoholic tendencies. I resisted the urge to roll my eyes. I had been in the courtroom with this man before, Rusty Owens. I shook my head, pulling out my briefcase and information about the case. I had already formed all of my opinions, facts, data, and witnesses, but it seemed the director of the CIA, my main witness, was not here.

The jury sat in their seats, staring at Rusty, and glaring at me. No one seemed to care that he may be innocent, they had already formed an opinion. I looked to my opponents but not one else sat there.

"The director of the CIA, has decided that he doesn't CARE about this case, but he wants Mr. Owens discharged," The judge spoke, reading over some papers.

"Your honor, I do not understand how a man who supposedly does not care about this case, can still want Mr. Owens discharged," I reasoned, getting ticked off. This was ridiculous! A waste of my time, for a man who didn't even care at all.

"I have ruled in the favor of the director of the CIA. Mr. Owens is discharge," The judge whacked her gavel, ignoring my thoughts. My mouth hung open, and I glared at the room. This wasn't even a real case, and the judge wasn't following protocol. I stalked out of the room, clutching my briefcase until my knuckles turned white.

As I made my way out the door, I heard footsteps charging after me. I turned around to see Rusty Owens speed-walking towards me, and I stopped to face him.

"What?" I growled at him, my patience running thin.

"Don't just walk out on me like that, Melinda," He spoke, stressing my name. I rolled my eyes at him, and shook my head. He wasn't going to charm me like he had when I had been a law student. That's right, we may have had a fling, but that didn't matter now.

"The judge ruled my opponents favor, so I can't help you," I replied starting to turn away.

"Melinda, wait! I have something to tell you," He grabbed my wrist, and pulled me up against him.

"Let me go," I hissed, pushing away from him, and backing up a good foot.

"Come over to my place Melinda," He insisted, and continued before I could object, "I have a proposition for you."

"Fine. But later. I actually have stuff to DO. When you hold a steady job, you have things to do," I said, starting to turn.

"At 7. 2134 Shady Brook, Apartment 93," Rusty told me, and I heard his footsteps start to head away.

I shook my head and continued on with my day, but at 6:45, I headed over, to Shady Brook.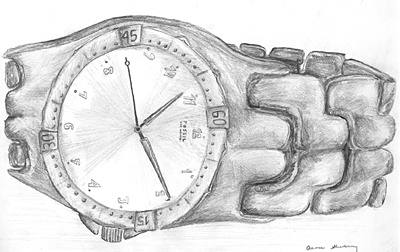 © Aaron S., New City, NY