Survivor
June 5, 2010
I remember when I was five years old my mother was intoxicated and was walking ahead of me down the sidewalk in Russia. My father was an alcoholic like my mother and was never home.
My mother turned around stumbling forward then backward and slurred out the words, "Stay put" to me. I did. I watched as my mother walked into the road. She stood there waiting until finally a car hit her. She immediately died, before the man could even run out to her side.
I did not cry. I simply stood waiting, unmoving. After what seemed like an eternity he glanced up, as he took out his cell phone to call the police, he saw me and ran to my side and knelt down on his knees.
He said in a panicky voice, "How old are you?" I held up my hand with all five fingers spread out. "Where's your Mommy and Daddy?" I pointed to my mothers dead body. He held out his hand and I took it, to this day I still don't know why I did.
That's when I found my mother's silver ring next to the side walk, it had a heart with a crown placed on top of it.
When the police came the man handed me to an officer and walked a way without a word.
I was sent to an orphanage. I kept to myself the few months I was there and was shortly adopted by a nice woman and went to America.
Today I call her mom.
I buried my mothers ring in a small box and planted a rosebush on top. It lives as my former mother cannot.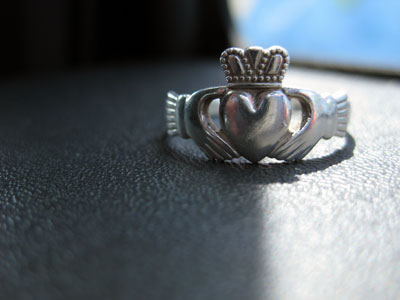 © Kaelyn L., East Northport, NY