War (Part 3)
December 2, 2010
I played a lot of video games with my best friend as a child, and the games that revolved around war were our favorites. Out characters in the games were more powerful than we actually were in reality. When I joined the army, I learned that these war games didn't prepare me for anything. Although video games are fun to play, they put a barrier between a person and the pain of reality. Video games didn't prepare me for the real fear I faced in battle. Video games didn't prepare me for the pain induced by a gunshot wound. Video games, being created purely for entertainment and business, don't really have any beneficial uses besides improving reflex skills and strategy.
Unfortunately, video games didn't prepare me either for the shock I felt when Theodore, my best friend, fell dead beside me in battle. I knew that he was dead when he hit the ground, and I fought for a little longer until tears rolled down my sullied face. The tears dripped onto my shirt, which was already soaked in the relentless rain. The enemy inched closer with their armored vehicles. I was finally overcome with pain and drained of all hope after a few minutes, so I sat down behind sacks of sand, drew my knees to my chest, wrapped my arms around my knees, and wept like a little girl. After a few minutes, I heard the reassuring sound of fighter jets in the sky above to support us against our enemy. In a short period of time, the entire enemy team was destroyed, and our men rejoiced. I was still weeping. To me, the battle meant nothing anymore.
Two weeks passed, and I was marching down a wide street toward Theodore's house, where his wife was waiting for her loving husband to return from the war. The road was lined with beautiful trees that were blooming with pink and red flowers. Everything was peaceful and silent except for a pair of birds that chirped high up in a tree. The sky was overcast, but the sun shined down through an opening in the clouds. Although I was marching straight and in tempo, every step felt heavy and clumsy. When Theodore's house came into view, my legs suddenly felt weak and I almost stumbled. I came to a halt before the front door. The other soldiers who held an elaborate coffin that contained Theodore's body stopped behind me. His wife ran quickly out of the house, completely taken with surprise by the gathering. We were silent, and when realization hit her, she collapsed onto the well kept grass on the front lawn. Her lips quivered, her eyes shut, and she let out a piercing shriek of agony. I brought myself to my knees beside her and quietly comforted her. I finally learned that life wasn't a video game. When you make mistakes, you can't rewind. When life get's hard, you can't pause and quit. When Theodore died, I knew he wouldn't come back to finish life with me, just like he did when we used to play games.
Somber music, played from a single bugle, resonated through the air.

THE END.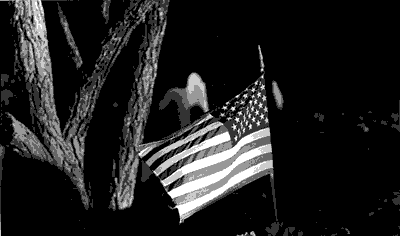 © Kimberly R., Marblehead, MA