Dark angle: Star
August 8, 2011
"It's so cold." A small, scared voice whispered

Alaska's head whipped up and demands, "Who are you?"

"Help!", the pitiful voice says again, "It's so cold and dark. I don't like the dark."

She looks around her small cottage room, it's dimly lit with light only coming from the cracks in the wall leading to the outdoors.

"It's not that dark."

"Help.... Oh no. He's coming! Help me please!" the voice wailed

"Alie! Alie!" Alaska exclaimed jumping to her feet remembering her little sister's voice at last. "Hang on Alie, I'll find you!"

"Hurry! I don't think I can..."

"Alie?"

No answer

"Alie! I will find you!" Alaska exclaimed as a red star appeared behind her bangs and was burned into skin.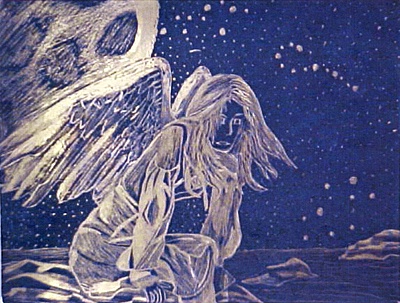 © Kaylen C., St. Clair, MI