The Asylum
March 28, 2019
It is home to the broken minded, but it will never be a place of comfort. No it will never be like a real home, for on the inside it homes the insane.
Down the hall is a man, he looks normal, except for the fact that he is speaking an unknown language that is simply words pronounced backwards. He looks as though he once had been a bright young man, with his curly brown hair, and brown eyes. He might have even been a businessman. But to the Asylum he is insane.
Across from the man we see a girl who, unlike the man, is clearly insane. Her blonde hair, that once must have shimmered in the sunlight, is now matted and has lost its look of youth. Her cheeks are sunken, instead of round, and there are bags under her once bright blue eyes. She is looking down at her hands, which are cradling air. But the girl does not understand this, instead she smiles and croos, as though holding a baby. To the Asylum she is insane.
Another girl, who looks to be Fourteen, is having a conversation with no one. She speaks of travelling when she grows old enough, but this can never be. She must once have been very beautiful, but her black hair is cut rather short, and her eyes are glazed over. She is smiling as she talks of where she will go, all the while she is scratching at her arms, making long scratches that bleed. To the Asylum she is insane.
There are many more insane, but it would be much to hard to count them all. There are some who are roaming the halls laughing crazily, some sitting against the wall looking terrified. to the Asylum they are all insane. To the Asylum they are broken people, with broken minds. To the Asylum they need fixing, for they are all broken.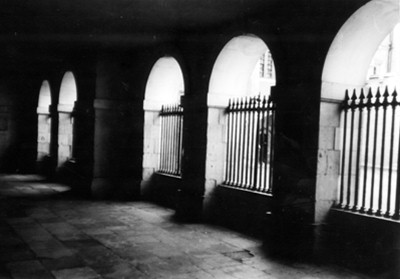 © Hadley B., Marblehead, MA