Memories
June 2, 2009
Raindrops drip from my nose. I sit with my head hanging, tuned out from all of the whispers and desperate cries of pain, around me. I've wept so much, I have become scarce of tears. There is a warm breeze entangled in the drizzle of rain. For a split second, I caught myself remembering the many summers with my best friend. I gently shake my head, as if to shake away the nostalgia, and let out a half-hearted sigh. Memories are painful. Even more so on this gloomy, gray day; the worst day of my life. My lips tremble as I think about how the weather fits the setting. A graveyard. It makes it so much harder to accept my loss now.

The day I heard the news and locked myself in my room, was not the worst. The day after, when I was asked to help make a picture display of his life and choose the music, was not the worst. I hadn't seen him dead yet, so I still remembered him smiling and very much alive. Today, the day of the funeral, is the worst day of my life, no doubt. I thought I had the courage to see him, but that was just the numbness of the disbelief lying to my heart. When I saw how blue his skin was underneath the white makeup, I was hit with the realization that he really was gone. Cold. Lost. Empty of the spirit and personality that I used to envy and cling to.

Only two days ago, I was moping around because I couldn't think of anything to do without my best friend, and I was a little mad that he went to visit his father without me. Then, nothing else in my life mattered when I was told that he was killed on his way to Mississippi, for a road trip with his dad.I groaned as I realized I would have died if I had gone. But why did he have to go so young? I would have been happy to be by his side to the end. That's the way it should have been.

His dad. Oh, how he protected the two of us as equally as if I were one of his own. Oh, how he must hurt. He's the father I've never known. I can't help but wonder what he must be going through right now. I was up all night pouring my heart out to the sky, only to wake with a sore throat and tear-stained cheeks. I can't imagine what he must have done, or will do, and I pray he doesn't do it.

I broke out of my thoughts as I felt everybody around me standing. I walked up to the coffin. In it lays my forever sleeping friend. I closed my eyes and ran my hand along the coffin. It brought me back to the summer he and I finished building a barn for his dad. We were so proud. Then I remembered that his father said to us, "Boys, with your hands you do feel, but the touch only lasts for so long. With your mind, you will always remember. We live off of our memories. They are vital to life. Do not ever deprive yourself of them. Remember now, what I have said to you. Think of it always." We had laughed about it after he left us to marvel at our hard work. Now I can't find a reason to think it funny at all.

Suddenly, the tears were back. But these were tears of understanding and joy. Memories, are not as horrid and evil as I had thought. They do not hurt. They provide us with all that we know. For the first time in a while, I smiled. I can picture my best friend looking peaceful and happy whether he is in heaven or by my side. Like he always used to be when we were together, making memories.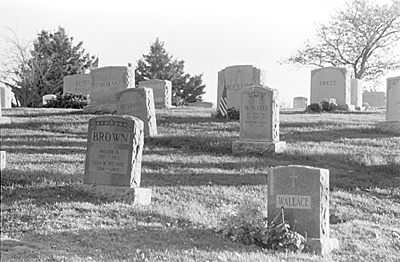 © Jenn H., Marblehead, MA