Do you like me? Yes or No?
February 28, 2009
I couldn't care less what the teacher is scrawling in chicken's scratch across the board. I
can't decipher it anyway. My friend is passing me a note. The teacher's back is turned, she
can't see. I wait, testing to see how long my friends' twitchy hand will dare to hover between
my desk and hers. Her nervous eyes dart back and forth between mine and the ones she thinks are on
Ms. Spooner's back, watching her at all times.

Finally, she thrusts the note towards me and it flutters onto my lap. I laugh at its lame decent,
but open it because I'm curious what it says. It crinkles loudly in the hushed class and a few
students' heads spin lazily towards my desk, quizzical and bemused expressions dancing across
their faces. Anything is more exciting than the babbling teacher. I look down at the note, and
there's a few words written in blue pen. It reads: 'Do you like me? YES NO'.

I laugh out of shock and now almost everybody is looking at me, some more annoyed than curious. Only
a few people aren't looking at me. Tom, who sits behind Cindy, is one of them. He's writing
something with his favourite pen. Ms. Spooner and Cindy, my friend, the authour of the note, are the
other people not looking.

Cindy is fidgeting and squirming and playing with her pencil. I giggle again, wondering why she'd
write such a thing. Maybe she means like, friends, and not like girlfriends. I laugh freely now, not caring who hears, not even caring when the teacher hisses angrily,
her eyes leaving the chalkboard long enough to give me a warning look.

I decide to interpret the note as a friendship thing. She means, 'Do you enjoy my company? YES
NO' I noisily yank out my green glitter pen and write in a jokey wide print, 'I never knew you
felt that way about me. Of course I do, wanna hang out Friday night? Just you and me.' I add a
small green glittery heart as an afterthought.

I laugh once more, and then wrecklessly toss the balled-up note back at my funny little Cindy. She
raises her eyebrows at me, sort of like asking, 'What did it say?' Then she leans over to Tom
and gingerly places the balled-up note on his desk.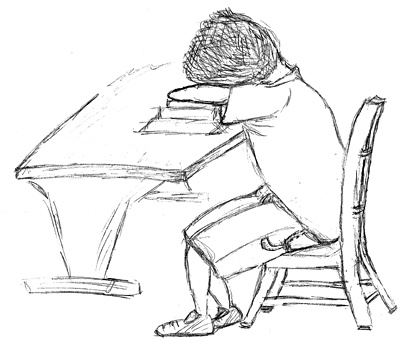 © Franziska K., Milford, CT