Two Minutes
July 28, 2009
It's amazing how two minutes can feel like a lifetime. Two minutes of nonstop combat that leave you winded and drenched in sweat, two minutes that leave your uniform feeling bulky and hot. It's amazing that two friends who'd just been talking and laughing in line now faced each other, both of their faces stony and set. In the world of martial arts, two minutes mean the difference between victory and crushing defeat.

You size up your opponent. She's a girl about your age, her streaky brown hair tied up in a high ponytail, her blue eyes determined, but not cold. Her freckled face is level with yours, devoid of emotion. You keep your own face the same. She's your friend, but the two of you are serious now. This is not the time for games.

You glance at the clock over her shoulder. Seven minutes until the end of class. Yours is the last fight of the day. You dig your toes into the hard blue mat, hoping you can keep your balance tonight.

"No contact sparring," the instructor barks, but it doesn't matter if it's contact or not. You'll still get hit, though not as much as you would. You adopt a strong stance, leaning most of your weight on your back leg, your fists held at the ready. You've been doing this for years, but every new sparring match gives you butterflies.

"Seejah!" The harsh Korean word hangs on the air long after the fight begins. You and your opponent square off, both of you waiting for the other to make a move. You, the passive fighter, dodge back as she aims a controlled kick at your head. You side kick, then roundhouse kick to her, and one kick catches her arm.

"Sorry," you mutter before you can stop yourself. It's a reflex, as natural as blocking a jab or punch. She nods and presses herself up against you, making it impossible for you to lash out. You do a side step and she stumbles, but catches herself and jabs out again, this time hitting your shoulder. The taboo "Sorry" falls from her lips. You brush your dark hair out of your face, spitting out strands. You spare a brief smile, even as you kick out, for the prissy girls at your school who spend hours on getting every lock of hairs perfect and getting manicures and pedicures. Your hair is chopped just above your shoulders, and would cause every popular girl you know to go into cardiac arrest and keel over. Your nails are gnawed short (perfect for fists) and your feet in general are hard and callused from years on the mat. Paris Hilton you ain't.

A back kick from her, which you block. You're getting tired from dodging and kicking, and your breath comes in ragged gasps. Your lungs are frozen from lack of oxygen. Your muscles hurt and you find yourself thinking about Starbucks' Vivanno Smoothies when you should be concentrating on the fight. But still you keep up your passive technique. She's wearing down too, you can tell by her flushed face, and you use her exhaustion against her. But she's ready for your attack, and saps your energy. The two of you are gasping for air when the Korean word for "stop fighting" hits the air.

"Kyung-yay."

You shake your opponent's hand, breathing hard through your nose. She smiles at you and you smile back. Poof, you go from trying to kill each other to friends again in a single glance. You head back into formation, finally realizing the true value of two minutes.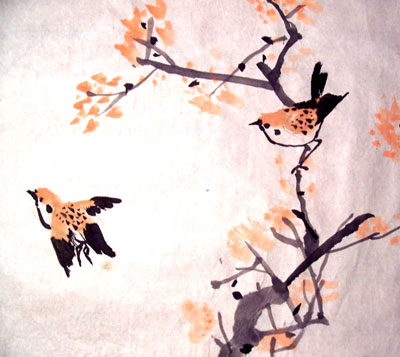 © Xiao H., Naperville, IL