Dark hair and bright eyes
September 8, 2009
Carter put a plaid shirt on and held his arms out. "It's too big."

It's too big was an understatement. I stared at him as he glowed from the sunlight streaming in through the open door. He had a baseball game to get to, he continued to linger. "You'll be great Carter." He liked baseball, football, soccer, and really anything that was competitive. "Thanks Ellie." He smiled painfully. His cheeks were puffy and he had braces which made his smile even better, under a mass of dyed black hair that went below his ears, down his face. His big brown eyes looked down. "I really hope I do alright."

"Carter?" I said, as he turned around to leave. He looked back at me. "We'll watch a movie and stuff when you get back…It'll be fun." I hoped somehow in some twisted way to convey through my smile and the way I looked at him, at the sunlight, and beyond, that I was not giving up, and he shouldn't either- he was great just the way he was. "Um, okay, uh, yeah, sure." Carter replied and left. I sighed deeply at the closed door, watching the house suddenly grow dark with shadows.

I met Carter today, I was staying over at his house because it was his sister's birthday, and her name was Violet and she was turning sixteen. I was six months older. Violet was on the phone and she saw me come into the kitchen and hung up. "So many calls…every family member wants to wish me happy birthday. It's just make believe. Like a birthday makes things any better right?" And she smiled. I nodded, shrugged.

This was a last minute attempt on my part to find something to hold on to, everyday I tried to find a raft, a preserve, a way to know that if I could see tomorrow, and next week, and next year- that I would know nothing would change, and everything I loved would remain. There was no way of knowing.

I felt my dark hair, ironed. Violet did it. I had naturally almost black hair, like my dad, and it was long and frizzy and had a life of its own. It rebelled against me. I gave up. Violet did not; she ironed it like she ironed her hair and even Carters. My new look was shocking but when I got up, she grinned. "You look amazing!" And Carter nodded solemnly, "you do. You are."

The thing was Violet was strong, brave, tolerant, and on the verge of freaking out. I was the only one who got her, and vice versa. It made sense when we found each other every morning at school. We would sit in the cold, she would read Twilight, and I would put my head on her shoulder and listen to Carter's old I-Pod.

When the sun finally set, we head dinner. Carter wasn't home yet, but he and his dad planned to get something out anyways. So Violet and I made dinner, made a plate for her mom who was in the living room reading emails, and then we sat at the island and ate. Of course there was a radio on the island and we listened to music the whole time. We functioned in a world of deep water and constant music. Quiet was uncomfortable, confronting was harder, and friendship was perfect. She was an artist. She dreamed of going to art school. She had that ad from Seventeen with a bear- if you could draw it perfectly you would win cash and a scholarship to RISD. I urged her to hold on to her portfolio and keep working. I on the other hand, was a writer. I loved the bliss that the words could create. I could make my own stories and my own characters and write it the way I wanted things to go, it was like taking my hope and putting it to paper. Writing was like freedom and free-fall all at once. I could hit the ground hard when I wrote, but usually I hit the ground softly, able to make the landing.

My parents were supportive of my writing as long as I interacted with the real world as much as the one I made up. But the one I made up was better sometimes because I didn't have to feel certain things and explain it or go through things and see what happened. I was safe. I felt safe with Violet and Carter. Carter was fourteen and he was Violet's best friend, not by default but by love. I knew the next day we would celebrate her birthday and they would drop me off at home. My house was quiet, not operated by twenty-four seven music or spontaneous laughter and thoughts. It was a home that was thought out, serious.

My mom said she liked me, "how many years have we not had a real relationship?" She constantly asked. Our house was small and it was a work in progress. I wasn't just talking about our literal house. I slept in a room with flickering lights from the street outside my windows, cars driving past, and paint buckets against the wall. When I got home we would resume our cleaning and painting. I was excited for the finished results. I liked my mom. I loved her, but I also liked her. She knew I hated school and had anxiety and loved my new best friend. She knew my converse was wearing out and got me a new pair. We were both night people, and we were both turtles-let it roll off your back…We were deep, passionate people. Sometimes I felt like my deepness and my passion was an intensity wielding beauty and a uniqueness that only I was defined by which would ultimately help me through my life. I would be just fine. But I couldn't tell mom everything from my heart. I didn't want her to be disappointed. I had to hold on to the strings of my balloons- tightly, because they could all float away and everything I gripped and held on to would crumble. And then who would I be? And then where would I be?

The next day we raided the fridge and had yogurt and frozen waffles and Reese's and salt and vinegar potato chips. Their dad was somewhere in the house playing U2, but Violet has Hawthorn Heights playing in the living room and Carter was playing Augustana in his bedroom, until I came up the staircase-they had a huge house- and he put in Taking Back Sunday. He smiled his own smile. I looked at his puffy cheeks, his braces, his dark eyes. "Good morning Ellie."

"Good morning Carter." I slipped into Ellie's room to get all my stuff ready because after the movie they would drop me off at my own house and it was Saturday, I had one more day and then school again, at least we did our homework together last night.

When we got on the road we stopped for Dunkin's and then got to the mall where the movie theater was and grabbed some pizza. We also grabbed sour gummy worms for the movie. Ellie had an I-Pod on, I had Carter's old one, and Carter was singing to the mall radio- "These Words" by Natasha Bedingfield.

Of course that weekend was awhile ago and I am two years older now. I am working at a bookstore and I see them sometimes. Carter cut his hair off and it is his natural color. I see some other people from school come in to, they grab sodas or coffees and browse magazines and explore. I stood at the counter ringing things through, thinking about notebooks and oceans and concerts. Violet and I ended our friendship the end of our sophomore year. It was ugly. She called me, called me back to where she was- standing outside the French classroom but I kept walking down the hall into the blinding light, remembering Carter standing in it.

I wasn't surprised I had a heart that felt the way it did, like my stories, full of fragments and run-on sentences. Violet looked down as I ran her through. "Do you have a rewards card?" I asked, exhaling sharply. She did not want to be there or at least me to be there. But we were. Shake It by Metro Station was playing. I smiled, tilting my head as if the answers were in the airwaves; we had always thought so…

"My dad has it. Skip the card for today." She handed me the cash and in another minute she had her bag. She turned. Carter stared at me as she met him at the door. "I liked you guys just the way you were." I yelled. "You can't ever give up. It stinks that we can't be friends anymore, but at least keep believing. Promise me you will." For a second I thought she was going to say something, but they just walked out, just like that.

My mom and my stepdad Jason got a divorce last year. At first it was difficult but then it made sense. Jason was young but had lived a lot of life and his sorrow and wisdom earned creases on his face and around his eyes. He knew how to make any horrible or bad situation okay. I loved what he had tried so hard to teach me. And I was sorry for not giving feedback. Mom and I had moved in with Steve who lived in my aunt's apartment complex. It was fast and real and fun. I was moving on from my most loved and only friendship and a long school year and working and everything else on my mind, and Steve's was cool. We stayed up late eating pizza bites and watching movies and going for walks. My family is love. And it might be a little crazy, but it is the best kind. I don't think you should ever let your friends go, or your family, and if it has to happen, make sure they know you love them. Because whatever you are willing to lose, what you get back is really good too. You just have to keep moving.

It's been another year now the trees have lost their leaves. The boy walking down the street is listening to Tears Don't Fall- it's really loud. He lives in our apartment building, he has a beagle. His mom is really nice; she smokes all winter long on the porch as the boy takes the beagle for a walk down the plowed streets. Nothing really changes, but they way I see things-that changes. It gets more colorful-like Technicolor sparks flying, sights and sounds only I really understand with my heart stained sleeves. And it makes me feel like I am in on a secret. My family and I got back from a major city and we're home again, now, and I know coming back would mean facing up to what left imprints on my heart- like footprints on the beach- and I would have to rub my mirror clean of the fog and look and fess up. I have really dark hair, but my bright eyes are wide open.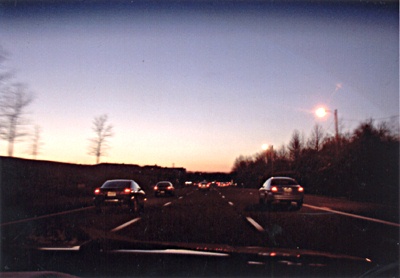 © Carolyn K., Toms River, NJ