Jeff the Cartoon Cat
July 24, 2010
Jeff used to be an ordinary cat but not anymore. Now, he is a cartoon cat. From a young age Jeff knew that he just didn't quite fit in with his peers. While all the other cats liked to eat mice Jeff preferred to chase them with a sledge hammer. When the other cats shredded paper he read books, when they stalked around corners Jeff proudly strutted out into the open. All the cats in Jeff's class ridiculed him for his strange differences. Everyday Jeff would try to be more like the other cats but he just couldn't do it. He was different and they knew it.

So Jeff went out and tried to find a place where he fit in. He tried going to the circus because he knew he was weird and he thought he might fit in there. Unfortunately the circus wasn't hiring so he had to continue his search. The same thing happened at the carnival, clown supply store, and the newspaper office. Dejected Jeff went walking down the street ready to accept the fact that he would just have to be different and rejected all his days. All of a sudden Jeff found himself on his rear on the sidewalk; he had walked into one of those photo-booths. Jeff was cursing his bad luck when he noticed that it was one of those Kids W.B. photo-booths. They looked really cool on T.V. with the people coming out as cartoon characters. He had never seen one before so he thought he might as well check it out.

Jeff hadn't ever thought that if you walk into one of the booths that you actually turn into a cartoon character so when he stepped out he was more than a little surprised when he actually did come out as a cartoon cat. At first he was alarmed he wasn't the only cartoon walking around his town but there weren't any other cartoon cats. What if the other cats in his class laughed at him even more? That would be unbearable. But no, everyone loved his new look, they thought it fit him perfectly and Jeff agreed. Life as a cartoon cat was looking up.

Now Jeff is the star of a very successful kid's cartoon that teaches them how to stay positive and keep moving forward. He is very good at his job because he has the real life experience that things can get better.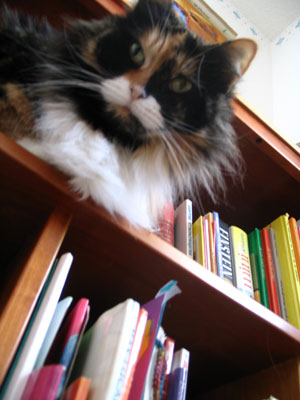 © Valerie L., Niskayuna, NY