Counting Snowflakes
MAG
December 16, 2007
When they were six, he was her Co-Captain. He would lie with her in the winter, counting snowflakes until they ran out of numbers, and then they would just watch. It was like falling up, he said once, like we're falling into the sky. And they would close their eyes and pretend that they were floating into outer space, together. They were going to stay up there among the stars forever, and be the king and queen of the moon.

When they were ten, he was her Fearless Protector. He wielded a stick as a weapon and no armor, and when he fell, it was her turn. Together they fought off the evils and nasties, running around screaming as if the world was about to come crashing down on them. And as far as they were concerned, it just might.

When they were 13, he was her Mirror. He groused and shoved when they teased her about anything and everything. He told her she couldn't help who she was; she was perfect in every single way, and what they said didn't matter. He said, "Whenever you feel insecure, just look at me. I don't think of you as anything less than perfect." She knew he wasn't lying.

When they were 16, he was her Savior. He held her hand as she waited for the date who never came, hour after hour. Afterward, he bought her waffles and they watched enough re-runs of "Grey's Anatomy" for anybody's lifetime.

When they were 19, he was her Pen Pal. They were oceans apart, connected by letters written in a foreign dialect that only they understood. He was studying in Prague, she was stuck in New York. His letters smelled of adventure, hers of home, and when they lingered in that place between sleep and waking, they could imagine that the missive was really the other. He could pretend he was home, she could think of all the adventures, but wherever they went, they were ­together.

When she was 22, he was Hers again. She ran to the airport gate on the verge of tears. It had been four years, but he was here. He was home. And when she saw him with his luggage and his smile and his eyes, he looked no different from the last time they had been here.

When she was 25, he was her Best Man. It may have been unorthodox, and he may have opposed the marriage, but he was there. He watched her walk down the aisle, and made a toast at the reception. He even stayed to clean up after everything was done.

When she was 28, he was her Repairman. He picked up the pieces left from a marriage that had never worked and put them back together. He sat with her in the divorce attorney's office and helped pay when she couldn't. And all the while, he never said a word about anything – just hugged her and told her it was going to be all right.

When she was 29, he was Father to a child that wasn't his. He let her squeeze his hand until it should have broken, let her scream and curse her ex-husband for doing this to her. And when it was over and they handed her a small squirming bundle of blue, he cried with her.

When she was 32, he was her Wonderwall. Cold winter nights, he sat with her in her mother's hospital room. Christmas lights and Santa Claus posters decorated the walls, the haunting beep of a heart monitor disrupting the silence. "Look out the window … it's snowing, see? Count the snowflakes with me, would you? Would you please?" And so they tilted their heads back and counted until they ran out of numbers, and then they closed their eyes, and they were in space again.

When she was 35, and 40, and 60, and 90, he was her co-captain, her fearless protector, and her savior. Her pen pal, and hers again, and her best man, and her repairman. He was father to a child that wasn't his, and he was her wonderwall.

But most of all – the only thing that really ended up mattering – he was her friend.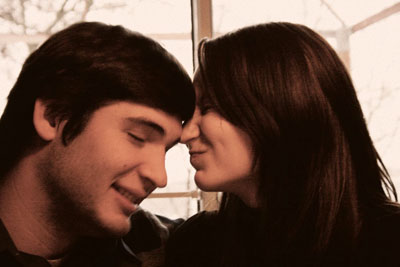 © Hannah L., St. Louis, MO