Beyond Words (Chapter one)
January 17, 2012
"Get up Noami before your late your late for school," my stepmother shouted from downstairs. I groaned and muttered "Great! the witch from hell is awake". i slipped outta bed and walked over to my stereo. I turned on "Savin' me" and cranked the volume up. the music starts and i dance around the room. my mom's voice whispering in my ear.
"..my prefect angel.."
"...graceful as a swan.."
"...sang like an angel..."
"...strong as a bull..."

Oh mom why did you leave me...i thought as i went to my closet and pulled out my favorite royal blue strapless silk dress. i quickly change. i went over to the mirror and stared in awe at the female staring back at me.

She had golden straight blond hair that went past her shoulders, unscarred unbruised creamy white kin, looked to be 5ft 7, and dark sea blue eyes. she had a sleek but well muscled body. not an ounce.She looked beyond beautiful. She was like a goddess. So this is want people see when they look at me....I thought to myself. BOOOOM!!! my bedroom door slammed open and hit off the wall.

My stepmother walked in. Her name was Jordan (just Jordan). she had dirty brown hair, was only 5ft 2, tan skin, and brown eyes. she had a ok figure but she had a lot more fat then muscle. " I told you to get downstairs.." she said angrily. "oh well" i said and walked outta the room and down the stairs. i walk into the kitchen, grabbed my stuff (my cell phone, notebook, and a pencil) and walked out the door without looking back.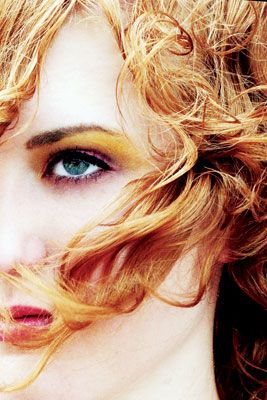 © Rebecca B., Marietta, GA