Ripped At The Seams
August 16, 2012
i often sit and watch the girl with the vibrant red lips and wonder if the harem of guys that she keeps around make her feel beautiful. Or maybe it's the skin tight clothes that she wears that look as if they were painted on and the 6 inch stilettos that make her feel worth something. And i secretly wonder if she remembers when we were younger. Us making our own ASPCA business and trying to save all the little stray animals in the neighborhood, showering with our bathing suites on, secretly getting wash-off tattoos because our parents wouldn't let us get real ones and late night strolls to the store just around the corner to get hot fries, our most favorite snack at the time

And we would stay up until the wee hours of the morning talking about everything and nothing all at once. You'd get all fidgety whenever i would talk about prom because that meant wearing earrings and you swore up and down that you would die before you ever wore a pair. You'd lose your breath talking mirthfully about books and promised that we'd both go to college in California and be room mates together. Now you're a senior in high school about to go off to college in New York somewhere, loosing your breath over not books but boys. Convinced you've fallen in love and haven done all the things you swore you would never do at least twice. You're tattoos no longer wash off and my heart crumbles painfully as you disdainfully decline your friend when offered a hot fry, claiming you hate the way they make your mouth burn.

And i wonder if we can ever go back to the way things were before or if we've grown so far apart that the individual pieces don't matter anymore because together we just don't work. I guess that the best thing that i can do for our friendship is to remember both the good and bad times alike and only hope as i watch your satiny silver hoop earrings gleam in the distance that it can still live alive through my memory.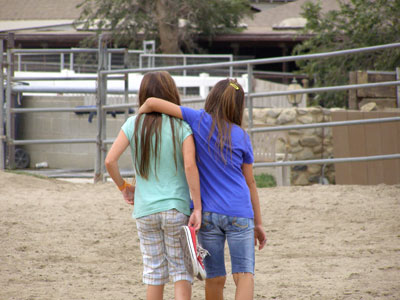 © Austin K., Studio City, CA