That Day
January 21, 2013
She tends to forget that a coat or a jacket is necessary in order to not freeze in the Chicago air. Living on a lake may have its perks but it's always five degrees colder here than at home and then you have to take into account the wind chill. It may say 30 degrees but it feels like 7. She wore dark colored jeans with her favorite white and black socks. On her feet were the pair of black Vanz that she has owned since the 8th grade. Her shirt was a grey v-neck and a maroon cardigan because nothing else felt exactly right that morning.

The air smells like home—warm, spicy, and comforting. It smells like walking into the restaurant doors as a gust of whatever grandma decided to cook that day hits you. The cold wind whips the smells around her nose, clouding her head with home sickness. But it's okay, and she takes a few more steps down from the platform.

The restaurant felt too big, she thought. There were red velvet curtains hanging towards the middle of the room separating the crowd from something vast and empty. There are people sitting in the seats of all tables except two. They're smiling and chattering and in front of her, sits a small child with her parents. She doesn't look older than three, short black hair, dark eyes, and ivory colored skin. She turns around and giggles at the group of four crowded into a table a tad too small. Three men walk into the restaurant; two with facial hair and one looking as though he just left the army, The tallest walked around in cognac colored cowboy boots and a long gray sweater that looked as if it would be rough against skin.

She ordered their food in a lilting Vietnamese accent, the smooth vowels rolling off of her tongue and into the space between her and the waiter that couldn't have been much younger than the college students. He repeated the order back to her, questioning if she had actually ordered correctly.
"Did you want the pigs feet and blood?"
"No, could I have it without?"
"Yes, we have an American style as well."
She tried not to act too embarrassed but the knowing red flush still came across her cheeks. Hopefully no one else noticed, she thought, as she twisted her paper napkin in between her fingers. Her food arrived first. Her favorite, Bun Bo Hue, which was a typical Vietnamese specialty and was one of the more popular dishes her grandparents sold. It smelt spicy and like lemongrass and it made her mouth water. The broth was almost an orange shade with round rice noodles and thinly sliced beef floating around. On top, a sprinkle of green and white onions completed the bowl of soup. She reached across the table to get a small handful of bean sprouts and a lime wedge to squeeze over her soup. The steam rising off of the top made it look even more appealing.
She was satisfied and slightly homesick. Every time her mom came in town, they'd venture to a Vietnamese restaurant with whomever drove to Chicago and had a meal. The memories flitted through her mind before she readjusted her thoughts and focused on the current moment. She stood up and walked to the register to pay. The counter was cluttered with blue sheets of paper listing what the other customers had ordered and how much they owed. She paid her bill, and quickly moved to leave, nearly walking into a shorter man carrying a plate of beef fried rice. She stepped outside with her three friends following quickly behind and braced herself against the cold Chicago wind. She zipped up her light gray jacket almost up to the bottom of her collar bone while taking in a deep breath and smiled. It was a good day.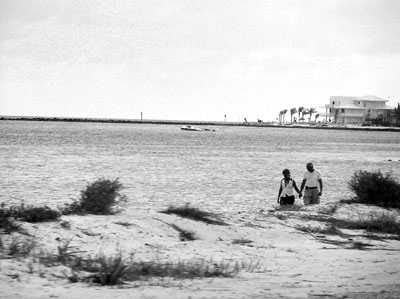 © Edgard B., Coral Springs, FL