As If The World Wasn't Ending
February 8, 2013
"Masks removed, we hide from here..."

I run. Screaming. Trembling. We all run, for ourselves. No time to go back for others. We are learning who we love, and by whom we are loved.
The ground is cast into the air and the sky pours down upon us. I search for him, but I fear it's too late. I'll never find him in this chaos. Earth flies while clouds fall. The world erupts with pure destruction. I fall to my knees, seeking shelter in a peace I must create for myself.

"While the spotlight's seeking me..."

I hear his cries. Pain like electricity. My name. He's searching for me. I cannot create my own peace, so I fight off the terror of the world. The fleeing people pay me only enough attention to step over me as they run by. My eyes scour their fearful faces for a sign of the one I love.
But it doesn't come. His voice grows louder, but his face hides from me. I raise my tearful eyes to the broken sky, seeking solace that is no longer there. I need him, but he isn't there.

"Forget the world for now, my love..."

He finds me. He takes me in his arms and holds me. In this one embrace is hidden more love than some will ever know, and for that I weep. I weep for the children who won't know the love of a mother, or the bride who will never know the love of a groom. I weep, not for love lost, but love unrealized.
In his arms, I know - I can feel it - our love is not unrealized. It is a thing more beautiful and precious than the world is frightful, and I lose myself in our love. In our memories, in our dreams. I lose myself in a familiar place, when all the world has grown strange, foreign, and dangerous.

"Come and live this night with me..."

The world is back. The world is real again - the red sky, the crumbling earth, the crying sky. All the desperate people. His eyes plead with me. We have to go.
He holds out his hand and I take it. Where we'll go, I'm not sure. But we will. We'll run, we'll search, and we'll fail. But we will do it together, and that's all I can ask. To be alone, as the earth swallows my soul, is a fate both terrible and unimaginable. But with my hand in his, we can go together. Whether to the depths of the earth or the peaks in the sky remains to be seen, but we will discover our fates together, hand in hand.

"As if the world wasn't ending."

I can no longer deny it. I know that he knows it, too. It's over. We've reached the end. The ground and sky have traded places, and we are caught in the middle with no place left to run. As I hold him, he holds me, and our embrace is both desperate and beautiful. In that moment, I want only to convey the depth of my love for him, but I can't.
It's too late.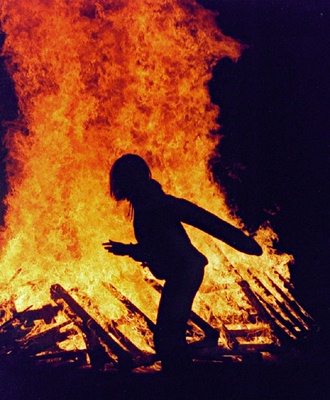 © Hali S., Robinson, IL