Chocolate for Emily
August 21, 2008
"…and so the beautiful princess, and the handsome prince: rolled off to their castle where they lived happily ever after. The end"

"Alright, now go to sleep little missy. I'll see you in the morning, night." I said to my little Emily as I bent down to turn off her Cinderella night light and give her a kiss. Emmie opened her big brown eyes and asked the same question she does every night.
"Will I get my prince? Will you?"
"I'm sure you'll get yours. And I doubt I will."
"I betya you'll meet your prince some day."
"Thanks, that's sweet."
"Do fairytales really come true? Are there such thing as happily ever after?"
"Yes Em, they do come true. But living happily ever after just depends on you. You just have to be happy and thankful with yourself, and things will work out. Like Cinderella, you see?" I spoke and Emmie listened. I looked at her and said to myself that she was the bravest girl I've ever met. I close the door as she falls asleep.

Emily has Leukemia. So young, it breaks my heart. Emily doesn't remember much about her past. The only thing she recalls of her history was her alcoholic and drug addict father killed her mother "by accident". Then, two months after the incident, her father escaped from prison and stole a car which he crashed and died that night for consuming too much alcohol. With parents like that, she was abandoned and alone. She was what normal people would call "abused". Emmie however does not like that word. She said she was more "forgotten". She believes that her parents forgot about their little girl. In despite of everything, she still believed that they at least love her a little even though they never bothered to care for her. The word "forgotten" was used in such a way that could shatter your heart into pieces.
I met Emily that November, a week before Thanksgiving. I was sitting by the pond and throwing rocks to the water. Tears were running down my cheek as I bang my fist on the ground. It was also the day I got my heart go smashed by a hammer, all shattered. I felt a hand on my shoulder, hoping that it would be Sam, coming back for me. But then I realize it was a very small hand touching on my shoulder. Sam never touches my shoulder. I turned around and there stood Emily. Emily was not really Emily at that point. She looked so sad, and hungry. For a second, I just stared at her and I forgot I was crying. She smiled and wiped the tear out of my right eye, then my left.
"Can I join you?"
In her tone of voice, I felt so much comfort. "Sure. What's your name?"
"Emily. What's yours?"
"It's Skye."
I gave her the rocks and the look on her face showed so much happiness and fun at the same time. She giggles as we attempt to count how many bounces the rock gets before it sinks. Looking at her smile healed my broken heart, at least right then anyway. The wind was getting stronger and stronger as rain started to pour. She stood up and said one innocent statement that grabbed my attention.
"Oh no, what am I going to do?"
"What do you mean? It's raining, where do you live? I'm sure I can drive you home." I said standing up patting the dirt off my pants.
I looked at her and waited for an answer. She remained quiet with her face down, she walked away. I didn't know what to do at the moment, but I didn't want her to be alone at the time.
"Are you hungry?"
She looked up at me and nods.
"Do you think it would be okay with your parents if I take you to get McDonald's or something?" I asked her.
She put on her silent face she did two minutes ago again. I was confused. Maybe there's something in her family going on, I didn't know at the time. I put her in my car and drove us to McDonald's. When we got there, Emily has this look on her face where she would smile. She looked around like a child has just been invited to Santa's workshop. The only problem was that she didn't know what she wanted to eat. She did not know that a toy comes with her meal. She did not know the difference in the drinks or understand the containment choices. When I asked her if she has ever been to a place like this, she simply shakes her head. I asked her where she's been and she gave me the silent answer again. When we got our food, I was shocked. She ate like a hungry baby drinking milk. I had to remind her to slow down five times. The way she held her cheeseburger with such thankfulness gave me an idea she hasn't eaten in a while. She took the toy in her hand so tight that she's scared someone was going to take it away from her. It was nothing great, really. A Happy Meal toy, a pony happy meal toy, but she was so happy holding it in her hand. She ran up to me and hugged my leg, and then she looked up into my eyes. I've never felt such strong feeling before. I bent down and told her it was time to go and she needs to tell me where I should take her now. It was late and I need to take her back before I'm accused of kidnapping or something.
"Emily, listen, I need to know where your parents are. I need to take you back. I'm not even supposed to take you."
She looked at me for a few seconds and then looked down on the floor. "I don't have parents. They both died."
My heart stopped. "What? Where do you sleep then? I'm so sorry."
"I sleep at the park, or just a warm place."
I took her hand and gently walked her out the door. I needed to do something. "Let's go."



At the police station, she told them her name. Funny, everyone recognized her parents' names, but her name was never in the system. By that, they meant she was never a registered child, like she was never existed. They also mentioned the parents never said anything about having a daughter, not even when there were in jail. The father never really cared when they asked for family members. They had no idea Emily existed. The officers said for me to take her to the orphan center and they would take care of her. Emily has fear in her eyes.
"Please don't take me there." She spoke trembling and shaking her little body.
"Don't worry; everything's going to be okay." I thanked the officers and led her out the door.

The idea of bringing her to the orphan center was just too harsh. She was too young, and the kids in there can be cruel. So my heart told me I was to take her with me. I took her to get some outfit first, and we headed home. I knew it was wrong taking her like this, like I'm kidnapping, but I just couldn't take it. She was just four then, wandering on the street, abandoned, forgotten. I gave her a bath and washed her light brown hair which happens to be blond with trapped dirt. She was so still when I brushed her hair, but I can tell she was warm and happy. It took her five minutes to fall asleep. She slept like a baby; well she is still a baby.

Thanksgiving was around the corner. I asked her what she was thankful for and she said it was a secret. Then when she asked me, I couldn't answer because I didn't know how to begin. We sat down at the table and attempt to finish the turkey although we were no where near half. We would have a lot of fun together. Sometimes we would go back to the park at the pond where she walked into my life. We would watch the sunset and throw rocks again. I remember one day, a year after she's been with me, she walked into the bushes around the park. We walk for a little while then she point to the old torn down cottage. We walked closer and closer and she would squeeze my hand. She said she was scared to go in. She was scared that something inside would grab a hold of her and take her back. She let go of my hand and ran back to the car crying. She would say to me while her body is trembling that she does not want to lose me. I cried too. Then after the crying part, we treated ourselves with chocolate ice cream. It always heals us no matter what. We then would spread the ice cream on each other's nose and then laugh at the goofy faces we make. In the car, we would sing real loud with our windows down to the radio. That was the last time Emily visited that cottage. She made it clear she never wanted to see it again. She was happy with me, and I was with her. Everything thing was working out great, or we thought it was.

The Leukemia was found two weeks before her seventh birthday. She spent that night she turned seven holding my hand saying she wanted chocolate ice cream, not chemotherapy. I told her it would be okay and promised her that I would be waiting for her with a carton of chocolate ice cream and two spoons as soon as she got back. But things changed. Chocolate ice cream was no longer the answer. Emmie threw them right up five minutes after it hits her empty stomach. With the hair loss and weight loss, she looks so sick. I was scared to death. She was so pale looking; I'd always blame myself for her.

"It's okay to be scared sometimes." She would always tell me.
We spend a lot of time in the hospital, mostly making fun of the food. Then later, while she's in check up, I would run out and rent our movies and buy our food. Sometimes I would run home and make something really quick. Emily didn't care what we eat. It didn't matter anyway because four out of five nights she would end up throwing them up.

We spent Thanksgiving in the hospital that year. I ran out to buy us some turkey and chocolate ice cream like our normal tradition. When I got back, Emily left a note on her table.
"Sorry if I'm asleep when you get back. Sorry for ruining our tradition, I just want to sleep. Eat some turkey for me and don't wait up. All that ice cream should go before it melts and I see it. I don't think it's good for my stomach anymore. Thank you for everything, saving me most. I love you, Emily."

A tear ran down my cheek as I fold the piece of paper and tuck it into my pocket. I held her hand and stared at her. I realized that this is the first time I cried since that night at the park. This tear was much deeper. I got down on my knees. I took my hand and covered hers. "Dear God, thank you for Emily here Lord. She's such an angel God. Please help her. Please heal her God. Father, she's so young! Please don't take her away from me. I need her. Lord, please, I pray that you would give Emily more time and help her get through this. Please God, please. In Jesus' name, Amen" When I opened my eyes, Emily was looking at me.
"I told you to eat all the ice cream before I wake up. You're a bad listener." She said smiling.
"Thank you for the note, it touched my heart. And how could I eat all this without you?"
"Happy Thanksgiving, Skye. I love you"
"Happy Thanksgiving, Emily. I love you more." I said kissing on her forehead. "You know, I never thank you for saving my life. You saved my soul, really. I was in miserable before I met you, you really changed that. So thank you."
Emily smiled. "I was miserable too. So I guess that makes us both."

That was a very special night. That Thanksgiving, we decided that we didn't need our tradition to be thankful and give thanks. We needed our hearts. That was a very special thanksgiving to me. It was the best Thanksgiving I've ever celebrated in my life, and also the most painful. It was my last Thanksgiving with Emily.

February 27th that year was a very quiet day. The smile that she left on her face never faded. She looked safe and peaceful. She no longer looked tired and sick. I'm not mad that God took her way. I finally understood why. I thank God for her because I've hurt myself that day at the park, if she didn't join my game of rock throwing. Now, I look at life differently. It was all God, and her.

Here I stand, on top of the St. Claire hill staring at the beautiful view. A ray of sunshine revealing the start of spring. I held a familiar small hand walking on the bright green grass. I picked up a flower and stopped next to Emily. I placed the flower down and smile.
"Hey Emily. How've you been? Things are good here. This is my son, Isaac, he's four now. You'd like him. He's a sweet kid, just like you. I did find a Prince Charming after all, like you said I would. Isaac and I picked you some flowers, I know you like daisies. I miss you Emmie."
"Hey what's up. So mom said you like daisies. But I think sunflower is good too. Well I wish I could meet you. Mom said you love chocolate ice cream. I like vanilla. But maybe I'll eat some for you."
"Well Isaac has a soccer game in an hour, so he has to go get ready. Wish him luck okay? We'll be thinking of you."

I closed my eyes for a moment to sink in the fresh air. When I open my eyes, there stand Isaac and a flower. He handed it to me in such love that I couldn't help but feel blessed. We laughed and chase each other down the hill into the car. I can't help but feel alive, so I smiled day that day, even when Isaac's team lost. But we're going to solve the problem with vanilla ice cream, and eat a chocolate for Emily.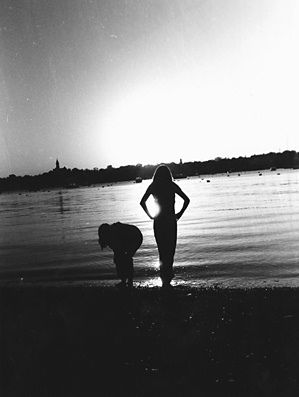 © Hadley B., Marblehead, MA